Trump Says He'll Close Border With Mexico if Violence Flares
(Bloomberg) -- President Donald Trump threatened to close the border with Mexico "for a long time" if authorities there can't quell attempts by large groups of migrants to cross into the U.S.
"Violence" would prompt him to shut the border, Trump told reporters traveling with him in Mississippi on Monday. "If they do a charge. With a closed border, it's very easy to stop."
He was largely complimentary of Mexico's government, which he said had attempted to stop the migrants from approaching the U.S. border. But while he said he expected a "good" relationship with Mexico's president-elect, Andres Manuel Lopez Obrador, he cautioned the incoming administration to remain vigilant against illegal migration.
"If it's not good we're just not going to be trading very much," Trump said. "We're not going to be trading with Mexico."
Trump has threatened to close the U.S.-Mexico border permanently after a conflict at the San Ysidro port of entry between Tijuana and San Diego, one of the busiest border crossings in the world. The crossing closed temporarily on Sunday after American border agents shot several rounds of tear gas at migrants, leaving children screaming and coughing, the Associated Press reported.
Earlier in Mississippi, where the president was campaigning on behalf of a Republican Senate candidate, Trump said that the tear gas was used after the migrants attacked U.S. border agents.
"We will not tolerate any form of assault or attack on our border agents like happened yesterday," Trump said during a rally in Tupelo, Mississippi. He said U.S. authorities had sent the migrants a message: "turn around and go back home."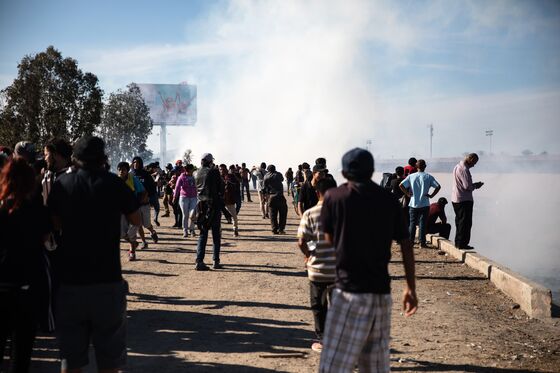 "The tear gas is a very minor form of the tear gas itself," Trump told reporters. "It's very safe. The ones that were suffering to a certain extent were the people that were putting it out there."
Customs and Border Patrol said some of the migrants threw projectiles at border agents. Photographs taken by news organizations showed unarmed women and children, some without shoes and in diapers, running from the gas. The Trump administration has been criticized by congressional Democrats for using force against the migrants.
The president criticized the migrants, noting that some of them had waved flags of their home countries as they approached the U.S. border.
"They say they're coming up and they want protection, because their country is such a bad place. But they're waving the flags of their countries as they're walking up," Trump said. "Somehow that doesn't work."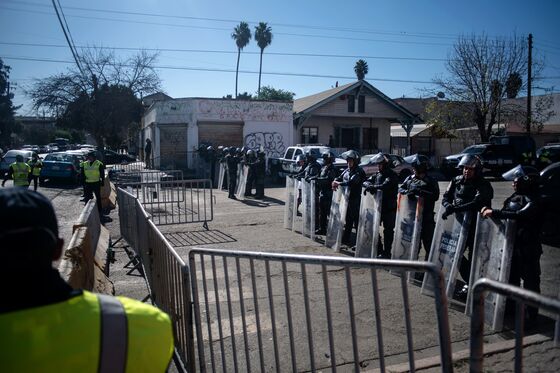 Later, Trump said that migrant women photographed with children may have been what he called "grabbers" -- people he described as kidnappers who take children with them to the U.S. in the hope of more sympathetic treatment. He offered no substantiation for the claim.
"In some cases, you know, they're not the parents," he said. "These are people, they call them grabbers. They grab the child because they think they're going to have a certain status by having a child."
Details of any potential closing of the 1,954-mile (3,145 kilometer) border with Mexico aren't yet clear. Mexico is America's third-largest trading partner in goods with $557.6 billion in two-way trade during 2017, according to the Office of the U.S. Trade Representative. Trade in services accounted for another $58 billion.
"We will close the Border permanently if need be," Trump said on Twitter earlier Monday. He said on Thanksgiving that he had authorized military units deployed on the border to use lethal force against migrants if necessary.
Trump made similar threats in October before the midterm elections, warning that an approaching "caravan" of migrants posed a risk to U.S. security and claiming without evidence that criminals were among the group.
Homeland Security Secretary Kirstjen Nielsen, in a statement posted on Facebook Monday night, praised the response at San Ysidro. "Our Border Patrol agents and officers responded admirably and responsibly to the events on Sunday," she said. "It is a testament to their training and professionalism that no one was injured."
"The accepted use of nonlethal force (also used by the Obama Administration in 2013) prevented further injury to agents and a mass illegal rush across the border," Nielsen added. "We will not shy away from protecting our people."
Trump was holding two rallies in Mississippi on Monday to bolster the candidacy of Republican Senator Cindy Hyde-Smith. Voters there will vote Tuesday in a runoff election for Senate that pits Hyde-Smith against Democrat Mike Espy, a former congressman and Agriculture secretary under President Bill Clinton.
Hyde-Smith has supported Trump's immigration policies, including his proposal to build a wall along the southern border. Espy has said a wall would be inefficient and waste taxpayer dollars.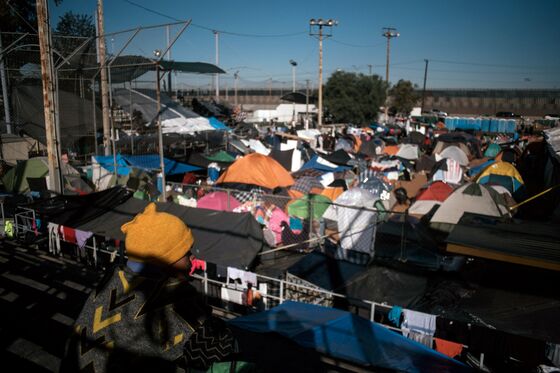 Trump has said that he would consider a partial shutdown of the federal government if Congress doesn't provide money for the border wall next month.
"We want to finish the wall," he said in Mississippi. "We've got to get funding from Congress. And if this isn't the right time to get funding, when you look at what's happening at the border, there will never be a right time. So we're going very strongly for funding for the wall."