Trump's Tweets on Deadly Fires Prompt Backlash in California
(Bloomberg) -- President Donald Trump's insistence that poor forest management by California is responsible for the state's deadly wildfires has fueled a backlash by officials who say it is misleading and ignores the fact that most of the public woodlands in the state are federally managed.
The Camp Fire north of Sacramento has now killed at least 42 people, injured three firefighters and destroyed 6,500 homes, CalFire said Tuesday morning. The state fire agency added that the fire covered 125,000 acres and is only 30 percent contained, with full containment not expected until Nov. 30. A second fire near Los Angeles has killed two.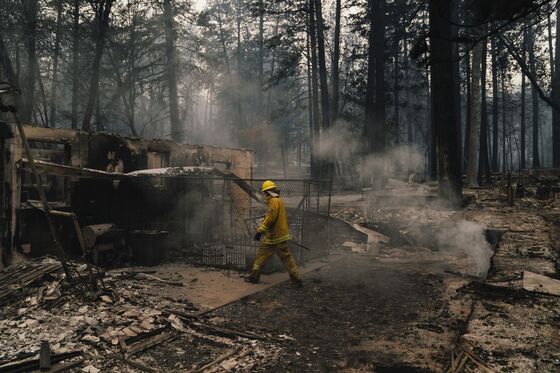 On Saturday, as the Camp Fire effectively destroyed the town of Paradise, Trump implied that the fault lay with state officials and threatened to cut off federal funding unless California improves its forest management.
The tweet prompted pushback from local officials. "I personally find that statement very hurtful to all first responders, who are putting their lives on the line to protect lives and property," Daryl Osby, the Los Angeles County Fire Chief, said in a press conference Monday. "We're in extreme climate change now. We can't control the climate."
Scott Austin, president of the Pasadena Firefighters Association, replied with his own tweet: "Mr. President, with all due respect, you are wrong. The fires in So. Cal are urban interface fires and have NOTHING to do with forest management. Come to SoCal and learn the facts & help the victims."
Trump softened his tone in a new tweet Monday evening.
He followed that on Tuesday with an additional tweet honoring the firemen: "We mourn for the lives lost and we pray for the victims of the California Wildfires. I want to thank the Firefighters and First Responders for their incredible courage in the face of grave danger."
Experts say forest management can mitigate some of the risk of wildfires, but point out that the federal government, not the state, owns the bulk of California's forests -- 57 percent, according to data from the University of California. Another 40 percent is held by companies, Native American tribes or families. So if indeed the forest management has been poor, the fault lies mainly with Trump's own agencies.
Many of the 15 wildfires currently burning in California are wholly or partly on federal land, according to data from CalFire. That includes the Camp Fire, which touches the Plumas National Forest; the Fork Fire, in the Angeles National Forest just east of Pasadena; and the Essex Fire in the Modoc National Forest in California's far northeast corner.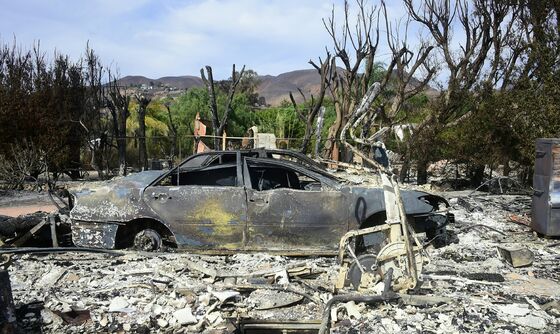 Trump's tweet also clashed with his administration's attempts to cut funding for forest management.
In his latest budget request, Trump asked Congress to cut the U.S. Forest Service's funding for the national forest system by 19 percent. Some of the programs designed to reduce wildfire risk, including restoring forest landscapes and the Integrated Resource Restoration Pilot, would have been eliminated altogether.
"If you're cutting the Forest Service budget and complaining about forest management, there's a serious problem," said Robert Bonnie, who was under secretary for natural resources and environment at the U.S. Department of Agriculture for President Barack Obama.
Experts say more aggressive forest management could reduce the severity of wildfires. In August, Trump's government promised to do just that: Agriculture Secretary Sonny Perdue, who oversees the U.S. Forest Service, pledged to increase the amount of logging and controlled burns on federal land, to address the spread of wildfires by reducing the amount of available fuel.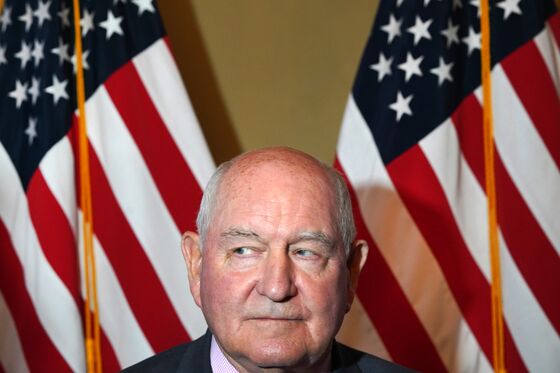 "Forest management is a huge part of the equation," Molly Mowery, founder and chief executive officer of Wildfire Planning International, said in a phone interview Monday. "But it's not the only part."
The Forest Service didn't respond to a request for comment Monday about whether that policy has been put into effect, or to what degree. Experts say it's unclear how much they'll help.
Ray Rasker, executive director of Headwaters Economics, a consulting group in Montana that advises governments on reducing damage from wildfires, said that forest management can only help to a degree.
"The areas that are flammable are massive compared to what you can treat physically," Rasker said. So if the goal is to protect homes, then forests near those homes need to be either logged or burned.
Yet residents often object to anything that removes the trees within sight of their homes, which are often why they chose to move to the area in the first place.
Prescribed burns are even more problematic, because of the smoke they create. That causes residents to object when federal agencies undertake those burns.
"Communities are often not receptive to any kind of smoke," Mowery said. "I think it's fair to say no one really likes smoke in the air."
In theory, the government could engage in more controlled burns anyway. But as more homes get built in those areas -- what experts refer to as the Wildland-Urban Interface, or WUI -- so does the difficulty of preventing those controlled fires from spreading to homes.
"It's very hard for managers, whether it's federal or state agencies, to use prescribed fires as much as they'd like to, because there are so many more places that are developed," Mowery said. "The risk is so much higher."
The focus on forest management may suit Trump's purposes in another sense: by downplaying the role of climate change, which can exacerbate wildfires through higher temperatures and more frequent and intense droughts. Trump has rolled back federal regulations designed to cut greenhouse gas emissions, and said last month that climate change could reverse itself, a view at odds with science.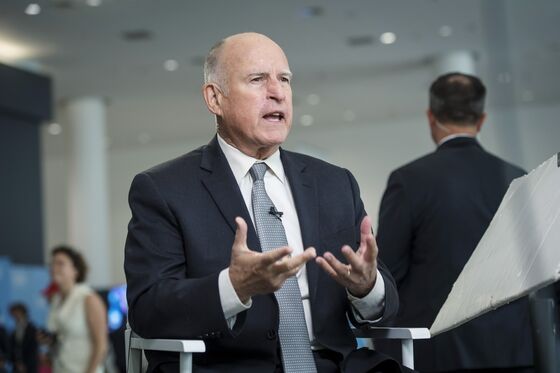 California Governor Jerry Brown called the spate of wildfires in his state "the new abnormal," and attributed it to climate change.
"Managing all the forests everywhere we can does not stop climate change," Brown said in a press conference Sunday. "Unfortunately, the best science is telling us that dryness, warmth, drought, all those things, they're going to intensify."