Trump's Trade War Lands at Air Show as Airbus Masks China Buyers
(Bloomberg) -- Airbus SE and Boeing Co. usually don't miss a chance to celebrate their biggest orders at the annual air shows -- typically, top executives will trumpet them loudly at signing ceremonies staffed with a phalanx of smiling flight attendants.
Not this year. On the first three days at the Farnborough expo taking place outside London, Airbus has cloaked the identity of the customer behind $24.4 billion in orders at list prices. Boeing followed suit on Wednesday for deals struck for planes valued at $11 billion based before customary discounts.
Why? Airbus's sales chief points the finger at Donald Trump, whose trade war with China has created a minefield for global companies that do business in both countries.
"The world today is governed by the tweets we receive every morning from one side of the Atlantic," Eric Schulz, the top salesman at the Toulouse, France-based planemaker, said at an investor presentation. "So, you know that that is putting a lot of pressure within the airlines, it's putting a lot of pressure within the governments."
Some customers, especially in Asia, have asked Airbus "not to fuel the fire," Schulz said. Some of the hidden orders came from customers in China, according to people familiar with the matter who asked not to be identified discussing non-public information. Trump is locked in a trade war with the U.S.'s biggest rival for global economic dominance.
The hidden orders constitute a big chunk of of Airbus's sales haul for the show. On Monday, an unidentified leasing firm signed a memorandum of understanding for 80 aircraft in the popular A320neo family, valued at $8.85 billion before typical discounts.
That was followed by an $11.5 billion deal for 100 narrow-body jets, and one for eight A350-900 wide-bodies totaling $2.5 billion. On Wednesday, there was another order, this time for six of its A330neos, valued at about $1.5 billion.
Most unidentified orders logged by Boeing and Airbus are thought by analysts to be placed by Chinese airlines or leasing companies. The buyers typically don't go public until the purchases are approved by the Chinese government.
"I would prefer to have them disclosed, but at the end of the day, you know what, the money is in the bank," Schulz said. "And so disclosed, undisclosed, that doesn't make a lot of difference. The orders is there, that's it."
With additional announcements on Day 3 of the air show, the tally for the world's two biggest planemakers stood at 780 aircraft, according to Rob Stallard, an analyst at Vertical Research Partners. Airbus got 379 while Boeing had 401.
Here's a sampling of other highlights from Farnborough:
While Boeing hasn't announced any planes sales to mainland China, it did strike a deal to sell 100 of its 737 Max narrow-body jets to Asia's VietJet, in an agreement valued at $12.7 billion that will make the Asian low-cost airline the biggest customer for the largest version of the aircraft.
VietJet, Vietnam's first privately owned airline, has been bolstering its fleet and expanding its regional network. The deal with Boeing also includes training and technical assistance in Vietnam, which will help develop aviation in the country.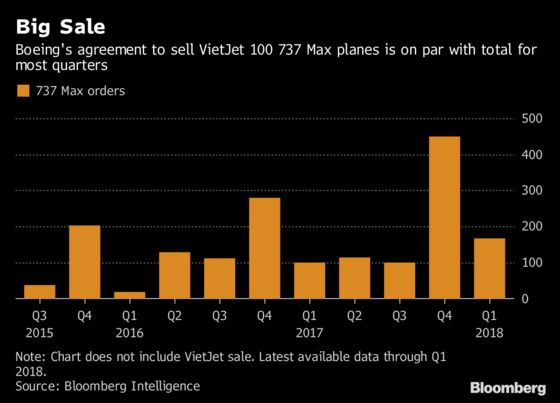 Airbus Chief Executive Officer Tom Enders bashed U.K. Prime Minister Theresa May's "unraveling" Brexit plan, adding to the criticism leveled Tuesday by his counterpart at engine-maker Rolls-Royce Holdings Plc.
Airbus will stockpile parts to insure against border delays after the U.K. exits the European Union next year, Enders said. The European planemaker makes wings at a plant in Broughton, Wales, and needs a buffer against potential parts shortages.
May has been forced to retreat on key elements of her white-paper blueprint for managing trade with Europe after the split, which means wavering on plans for a relatively seamless movement of parts across the English Channel.
"I thought the white paper was going in the right direction," Enders told reporters. "Now we see that they're unraveling again."
On a more positive note, it looks like the planes that are already built will be able to keep flying in the event of a hard Brexit. May and her transportation secretary, Chris Grayling, said Wednesday that EU negotiators want an agreement on takeoffs and landings regardless of whether there's a wider divorce pact.
"I expect, come what may, that we will have a sensible agreement on aviation because that's what we want and that's what they want," Grayling said in an interview.