Trump's Top Trade Adviser Meets With Silicon Valley Leaders
(Bloomberg) -- President Donald Trump's top trade adviser met with leading Silicon Valley executives on Thursday amid concerns about whether the administration can deliver on intellectual property protections with China amid a volatile trade war.
Trump stopped by for a portion of the meeting, according to two sources familiar with the matter, though they didn't elaborate on what he told the technology executives.
Google Chief Executive Officer Sundar Pichai, International Business Machines Corp.'s Ginni Rometty, Oracle Corp.'s CEO Safra Catz, Microsoft Corp.'s Satya Nadella and Qualcomm Inc.'s Steve Mollenkopf attended the meeting with U.S. Trade Representative Robert Lighthizer and the president's daughter Ivanka Trump, according to a White House official.
Blackstone Group LP's Steve Schwarzman and former Secretary of State Henry Kissinger also participated, according to the official, who spoke on condition of anonymity to identify the people involved in a closed meeting.
The gathering came after a high-stakes dinner on Saturday between Trump and Chinese President Xi Jinping, where the two leaders sought to defuse an escalating trade war. After the meeting, Trump said they had made progress on topics including intellectual property theft -- a key issue for Silicon Valley -- but the specifics remain unclear.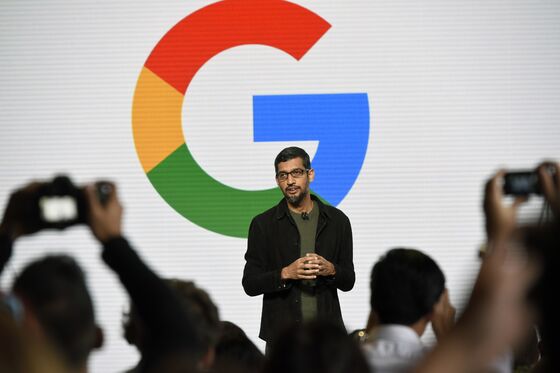 Tensions have since risen after Canadian authorities arrested Huawei Technologies Co.'s Wanzhou Meng at the request of the U.S.
Pichai, who is due to testify before a congressional panel on Dec. 11, has faced repeated Trump accusations that his company systematically biases search and news results against conservatives -- a charge with little evidence but one that other Republican politicians have picked up. The Alphabet Inc. unit is also under fire for its project to build a censored search engine for China, which Pichai has insisted is only exploratory.
The trade war wasn't on the official agenda for the White House meeting. The program included artificial intelligence, 5G and robotics, according to a copy of an invitation obtained by Bloomberg.
Trump economic adviser Larry Kudlow and the president's son-in-law and adviser, Jared Kushner, also were among the administration officials at Thursday's meeting.
At a May summit with officials from more than 100 companies, Michael Kratsios -- a top tech official in the Trump administration -- assured participants of a hands-off regulatory approach to emerging technologies such as artificial intelligence. Tech leaders have continued to press for more research and development funding and a more focused education strategy.
Industry executives also have been concerned by the government's plans to tighten restrictions on exports of new technologies due to national security concerns. The affected products could include quantum computing, speech recognition, and cloud artificial intelligence.
Trump has had an uneasy relationship with liberal Silicon Valley. At a December 2016 meeting with tech CEOs while he was president-elect, Trump cast himself as an ally to the sector. But he has since feuded with Google, Amazon.com Inc. and social media platforms including Facebook Inc. Many tech executives have publicly criticized Trump's anti-immigrant rhetoric and policies.