Trump's North Korea Boasts Are Catching Up to Him
Just weeks after U.S. President Donald Trump declared that North Korea was "no longer a nuclear threat," he's under pressure to show that Kim Jong Un really does intend to give up his weapons.
Secretary of State Mike Pompeo heads to Pyongyang this week for talks on a detailed disarmament plan following Trump's summit with Kim in Singapore last month. So far, North Korea has avoided committing to a timetable or specific steps to get rid of its arsenal of as many as 60 atomic bombs and a range of missiles.
What's worse, reports in recent days by independent researchers and media organizations have detailed North Korean efforts to boost nuclear fuel production, build more missile launchers and expand a key rocket-engine manufacturing facility. The White House has declined to comment on the findings – some of which relied on satellite imagery predating the summit – and maintains that everything is going according to plan.
A day after Trump and Kim met, Pompeo scolded a reporter who asked him for details on how the U.S. would verify a denuclearization deal with North Korea. If he doesn't answer the question soon, Trump's claims will look increasingly empty.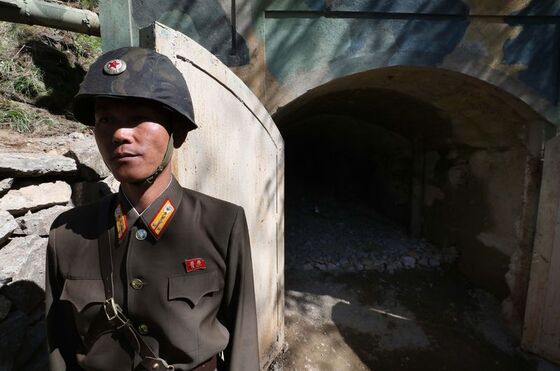 Just in...Former Malaysian Premier Najib Razak was arrested by anti-corruption investigators and is expected to be charged in Kuala Lumpur on Wednesday.
Merkel's deal | After winning a European agreement to tighten migration, German Chancellor Angela Merkel secured a pact at home to hold her fourth-term coalition together. A late-night compromise with her interior minister, Horst Seehofer, on processing asylum seekers allowed him to claim he won a concession and kept her Bavarian ally party on board. But with question marks over the fudge and Merkel looking weakened, there's a sense in Berlin that it won't be long before the next blowup.
Job threat | Trump's global trade war is posing a growing risk to the kind of robust employment gains that the president regularly touts. Data due Friday will be watched especially closely, as it covers the first weeks since the U.S. imposed steel and aluminum tariffs on some of its largest trading partners. Trump's protectionist tactics have sent financial markets whipsawing and prompted companies including Harley-Davidson and General Motors to warn of potential job losses.
Another Brexit vote | One of the most significant developments in the Brexit saga has been the shift by the U.K.'s main opposition party in favor of keeping ties with the European Union. Labour leader Jeremy Corbyn has so far refused to back a second referendum, but that could all change if his biggest financial backers – workers' union Unite – today vote a motion in favor of giving people a chance to call off the divorce.
Lopez Obrador's muscle | After winning the Mexican presidency in a canter, Andres Manuel Lopez Obrador's coalition looks set to take overwhelming control of both houses of Congress. That's created jitters among investors that the left-wing leader will face little trouble pushing through his agenda, including auditing energy contracts from outgoing President Enrique Pena Nieto's term.
Iran deal showdown | With Trump planning to reimpose sanctions on Iran on Aug. 6, President Hassan Rouhani is traveling to Europe today to tell France, Germany and the U.K. that they must ensure investment and trade will continue or the Islamic Republic will resume its nuclear activities and follow the U.S. out of the 2015 landmark accord.
Trump has spoken to four potential replacements for retiring Supreme Court Justice Anthony Kennedy, all federal appeals court judges.
And finally...Hurricane Maria turned Dominica into a foreign-funded laboratory for storm-proofing an entire nation. Prime Minister Roosevelt Skerrit's pledge to rebuild the devastated Caribbean island into the world's first "fully climate-resilient" country made him a celebrity among international donors, drawing support from the Clinton Foundation, Irish billionaire Denis O'Brien, the World Bank, and others. But, as Christopher Flavelle reports, on the ground, progress so far is hard to see.