Trump's Crisis Management Put to the Test
This time, Donald Trump is facing a crisis not of his own making.
The coronavirus's spread has foisted a fresh challenge upon the U.S. president eight months out from the elections.
Flanked by public health officials, Trump addressed the nation last night from the White House briefing room for only the second time in his presidency. The message was that while a broader outbreak in the U.S. is possible, the risk to average Americans is low.
"There's a chance it could get worse. There's a chance it could get fairly, substantially worse," Trump said. "But nothing's inevitable."
While he put Vice President Mike Pence in charge of the government's response, that might not be enough to shield Trump from the political risks.

He faces an unpredictable crisis that could threaten the stability of the world's largest economy and his own political future at November's elections, where the competence of his response may become a key issue.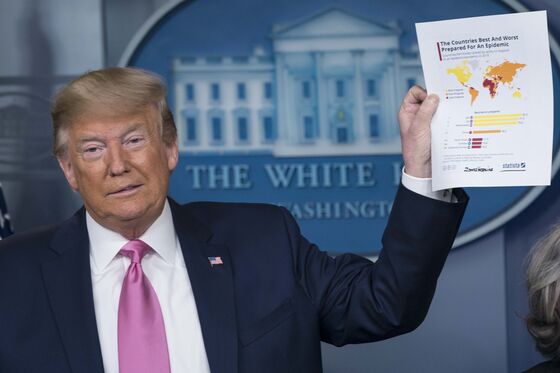 Alliance frictions | NATO has survived for more than 70 years as the security umbrella for Europe, despite periodic differences between its members. But increasingly the U.S. under Trump is dragging it into broader trans-Atlantic tensions over trade and China's Huawei which, as one analyst warns, risks European allies feeling they are "being coerced on some fairly key foreign policy issues."
Italy's disappointment | The Italian government took a gamble when it became the first Group of Seven nation to sign up to Chinese President Xi Jinping's Belt and Road Initiative. One year and another government later, Rome has yet to see any tangible benefits, Alan Crawford reports. Instead, economic disappointment is being compounded by tensions over the coronavirus.
Race begins | The top candidates to become leader of German Chancellor Angela Merkel's ruling Christian Democratic Union kicked off their campaigns as they vie for momentum before a party convention on April 25. Long-time Merkel foe Friedrich Merz is facing off with front-runner Armin Laschet, a moderate in Merkel's mold, for a chance to set the trajectory for Europe's most powerful economy for years to come.
India carnage | Families wept as they collected bodies wrapped in white shrouds from a hospital mortuary in Delhi as the death toll rises from some of the worst religious riots India's capital has seen in decades. Relatives blamed the government and police for letting the violence spin out of control, Muneeza Naqvi reports, after Hindu groups attacked mostly Muslim protesters demonstrating against the country's new religion-based citizenship law.
Missing ingredient? | Pete Buttigieg executed his strategy almost perfectly. He won in Iowa and finished in a closer-than-expected second place in New Hampshire. But, as Tyler Pager reports, those early successes have failed to make him a front runner. Now, Buttigieg faces his most serious test as the race for the Democratic presidential nomination turns national.
A brewing fight about which country has the right to tax some of the world's most profitable companies, including Facebook and Google, could devolve into a multi-front trade war, regardless of whether Trump wins a second term.
Tell us how we're doing or what we're missing at balancepower@bloomberg.net.
And finally … Saudi Arabia temporarily halted religious visits to Mecca and Medina, the Islamic world's holiest cities, which draw millions of people each year, to help halt the coronavirus. While Saudi authorities have reported no infections so far, neighboring countries including Kuwait, Bahrain, Iraq and the United Arab Emirates have flagged dozens of cases. In the Iranian city of Qom, the epicenter of that country's outbreak, faithful continue to visit one of Shiite Islam's holiest shrines even after officials banned religious ceremonies.