Trump Tries to Keep Up Pressure on Venezuela as Maduro Holds On
(Bloomberg) -- President Donald Trump sought to keep up pressure on Venezuelan President Nicolas Maduro, a day after an opposition effort to oust him appeared to fall short despite a years-long economic and humanitarian crisis that has seen millions of people flee the oil-rich country.
"We're doing everything we can do, short of, you know, the ultimate," Trump said in a telephone interview Wednesday night on the Fox Business Network. "There are people that would like to do -- have us do the ultimate. But we are, we have a lot of options open."
What asked what the options were, he replied, "Well, some of them I don't even like to mention to you because they're pretty tough."
Yet at the same time, he seemed to strike a less bellicose tone than that of other administration officials earlier in the day.
Earlier on Wednesday, Secretary of State Michael Pompeo, also speaking on the Fox Business Network, said: "Military action is possible -- if that's what's required, that's what the United States will do."
While American officials have repeatedly said that all options are on the table, Pompeo was joined by top military leaders and National Security Adviser John Bolton in adding new urgency to that message as they pressured Russia and Cuba to stop assisting Maduro's regime.
Pompeo took aim at Maduro's credibility and loyalty during an interview with CNN on Tuesday, claiming, like Bolton, that the Venezuelan leader was prepared to leave the country until the Russian government convinced him to stay.
"The fact that Maduro's plane was parked on the tarmac and he was preparing himself to depart, is a fact," Pompeo said. "There is no way that Maduro can stay in the country in a nation that he has so decimated."
Pompeo's claim couldn't be independently verified, and Trump appeared to cast doubt on it on Wednesday, calling the report a "rumor."
"It's not acceptable, if that's the case," Trump said in the Fox Business Network interview. "You hear a lot of rumors that he was, you hear rumors that he was leaving a different way. I'm hearing rumors about Russia, and I'm hearing a lot about Cuba."
Pompeo's stance was met with a fierce rebuke from Russian Foreign Minister Sergei Lavrov, who told Pompeo in a call Wednesday that any U.S. intervention, and threats against Maduro's regime, constitute a "gross violation of international law," according to Russia's foreign ministry. Further aggressive steps by the U.S. may result in "the most serious consequences," the ministry said in a statement.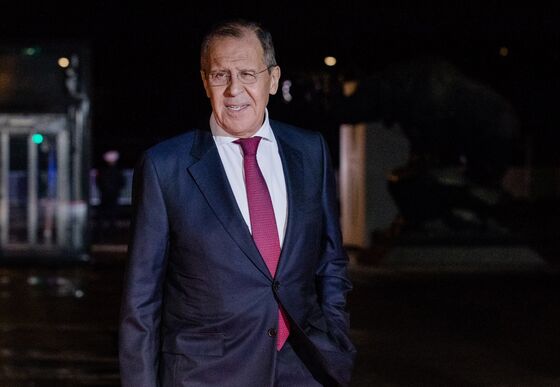 Pompeo told Lavrov that Russian and Cuban actions were destabilizing for Venezuela, according to the State Department.
The latest chapter in Venezuela's meltdown occurred Tuesday, when opposition leader Juan Guaido marched to a military base in Caracas with Leopoldo Lopez, a political prisoner who had apparently been freed from house arrest. That spurred hopes in the U.S. that senior Venezuelan military commanders were ready to switch sides, something that never took place.
The U.S. wants Russia to stop supporting Maduro, Bolton said, adding that the Trump administration has "very, very high confidence" in evidence the Russians talked Maduro out of leaving Venezuela after Guaido called on the military to join a popular uprising.
"I'm very confident" that Maduro won't be in power much longer, Bolton said. Every day Venezuela sells less oil internationally and soon the government won't be able to pay military service members, he said. Bolton repeated his contention that between 20,000 and 25,000 Cuban security forces were in Venezuela and, if they left, he believes the Maduro government would collapse.
Trump has bet heavily on Guaido, shrugging off his isolationist inclinations to rally allies in support of the opposition leader as the country's lawful head of state. But the outcome of Tuesday's clashes, which ended with Maduro still in Caracas and Lopez seeking asylum in the Chilean ambassador's residence, threatened to deal a setback not only to the Venezuela opposition but also the credibility of the U.S. campaign.
On Tuesday, Trump threatened a "full and complete" embargo of Cuba and said he would impose "highest-level sanctions" on the country if it continued military operations in Venezuela.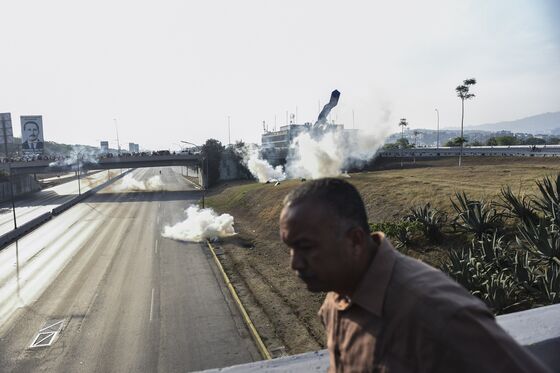 "We know the Cuban-organized thugs, these motorcycle gangs the Cubans have put together, are out protecting certain buildings, controlled by Maduro, not the military," Bolton said.
Cuba's foreign minister denied in a tweet that any of his nation's military forces are in Venezuela. Russian Foreign Ministry spokeswoman Maria Zakharova said Wednesday that Pompeo's claims weren't true. "Washington tried its best to demoralize the Venezuelan army and now used fakes as a part of an information war," she told CNN.
A failed uprising could more deeply entrench Maduro and extinguish hopes of toppling a government whose rule has resulted in hyperinflation, shortages of basic necessities, including medicine, and a migration crisis. It would also leave Guaido loyalists whom the U.S. has pledged to support in a vulnerable position, and prompt questions about why the administration has opted to forgo military action that Trump has long threatened, albeit obliquely.
"Trump will own this no matter what," said Paul Sullivan, an international security expert at Georgetown University's Center for Security Studies. "It caught to big flames on Trump's watch, and he has been very vocal on this. If Guaido is killed the country will explode into chaos. In any case, Maduro will not go quietly. This could get very bloody and could last a long time. Nothing will be easy or simple in this."
The White House made a number of other moves to try to rattle Maduro's regime.
The Federal Aviation Administration banned U.S. airlines and commercial operators from flying below 26,000 feet over Venezuela's airspace due to "increasing political instability and tensions" in the South American country, according to a notice on its website.
And Acting Defense Secretary Patrick Shanahan canceled a trip to Europe to focus on Venezuela.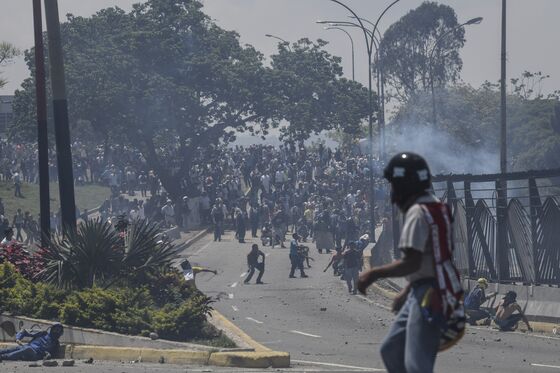 Bolton refused to say whether the U.S. would commit to military action if Guaido's personal safety was threatened or if Maduro loyalists escalated their attacks on protesters. Reports of violent clashes – including an instance where a Venezuelan military vehicle appeared to drive into a crowd of demonstrators – were reported across the country on Tuesday.