Trump Risks U.S. Jobs While Saving Apple's at Austin Factory
(Bloomberg) -- When Donald Trump toured an Austin, Texas, factory in November alongside Apple Inc. Chief Executive Officer Tim Cook, the president promoted the event as a celebration of U.S. manufacturing and the return of good-paying jobs to the country.
The Apple CEO had successfully made his case to the administration that some components for his company's products should be excluded from Trump's China tariffs in exchange for keeping production in the U.S.
"Today, I opened a major Apple Manufacturing plant in Texas that will bring high-paying jobs back to America," Trump tweeted on Nov. 20.

But the facility Trump visited is owned and operated by contract manufacturer Flex Ltd. and has been open for 30 years. For decades, it has been producing various devices for many companies including Cisco Systems Inc. Apple has been at the Flex plant since 2013.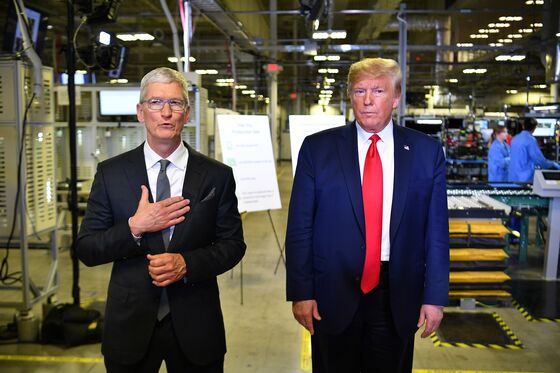 "He doesn't have to worry about tariffs," Trump said of Cook during the Nov. 20 factory tour. "Because when you build in the United States, you don't have to worry about tariffs."
Two months earlier, the iPhone maker was exempted from tariffs levied on components it imports from China that are used in the Mac Pro desktop put together at the Flex plant. The removal of a 25% surcharge on items like power supplies and printed circuit boards that house the main components of the computer lowered Apple's costs and, according to Cook, was the reason why the Cupertino, California-based company continued its manufacturing at the Austin factory.
But other companies, like San Jose, California-based Cisco, didn't receive the same treatment. Now jobs related to the manufacture of its products are at risk.
In July 2019, Cisco asked the government to exempt the company's power supplies for U.S.-made servers and switches from the same 25% tariff. Cisco said neither this China-made product nor a comparable one is available in the U.S. or from sources in third countries.
Cisco, like many other U.S. companies, was making the same plea to the Trump administration as Apple had: The exemptions were necessary to save good-paying American jobs.
After months of being stuck in the process, Cisco was told March 5 that its application for the tariff exemption was denied.
"After careful consideration, your request was denied because the request concerns a product strategically important or related to 'Made in China 2025' or other Chinese industrial programs," Joseph Barloon, general counsel for the Office of U.S. Trade Representative, wrote in the denial notice.
The applications for an exemption from Apple and Cisco were strikingly similar, particularly when it came to the question of whether their products helped China expand its industrial might.
"The subject power supplies are not strategically important or related to 'Made in China 2025' or any other Chinese industrial policy," Cisco wrote. "The manufacture of these products in China is unrelated to China's efforts to develop indigenous, advanced Information and Communications Technology products."
Apple used nearly identical language, saying: "This product is a component of a consumer electronic device. It is not strategically important or related to 'Made in China 2025' or other Chinese industrial programs."
Indeed, the power-supply boxes imported from China don't require cutting-edge technological know-how. They are mostly made up of large spools of copper wire, capacitors and other basic wiring. They haven't been made in the U.S. for years and don't require highly paid skilled labor.
Apple's application to get a tariff exclusion was approved in September 2019.
A USTR spokesman didn't respond to a request for comment when asked why Apple's power supply unit doesn't constitute a product that's strategically important to China's industrial programs if an almost identical one from Cisco does.
Cisco representatives specifically told USTR and others in the administration while the applications were pending that jobs were at risk, according to sources familiar with the process who asked not to be identified discussing private talks.
In a statement after the decision, Cisco said the exemptions it sought "would support the competitiveness of this domestic manufacturing."
The company said it would continue to work with the trade representative's office for tariff relief on other items, including "for communications equipment that we believe are vital to support the medical response to the coronavirus."
USTR doesn't make public the reasons why it approves a company's exemption requests. The business community writ large has complained about the lack of visibility into why certain companies get what appears to be preferential treatment over others.
San Jose, California-based Flex, which works for both companies, said in a statement that "securing waivers for tax exemptions is an individualized process based on each customer situation" and declined to identify other customers that use the Austin plant. "Flex's global footprint provides our customers with options for manufacturing locations, however, we also work closely to help our customers secure tariff exemptions based on their needs."
A group of Texas lawmakers in a letter to trade chief Robert Lighthizer last year underscored that jobs are on the line in Cisco's case. "Cisco's operations in Texas directly support more than 1,150 jobs in our state and indirectly support thousands of related jobs in logistics, warehousing, distribution and transportation," the lawmakers said in their Sept. 13 letter.
The decision by the trade office means it's now a lot cheaper for Cisco to put together its servers, switches and routers in Flex plants in Mexico and export the finished device tariff-free to the U.S. The company declined to say what actions it would take regarding jobs or manufacturing in light of the denial of tariff exemption.