Trump Picks Treasury Official to Lead U.S.'s Top Swaps Regulator
(Bloomberg) -- President Donald Trump plans to nominate a senior Treasury Department official to become the next chairman of the Commodity Futures Trading Commission, the White House said in a Tuesday statement.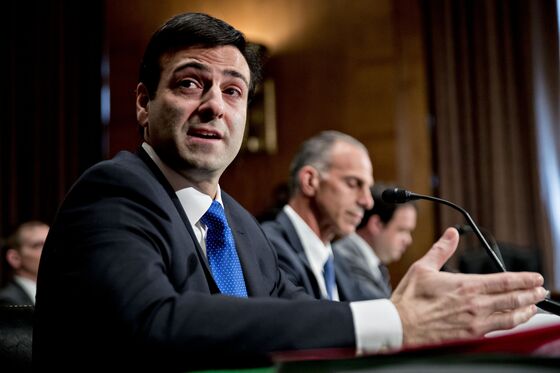 Heath Tarbert, who has been Treasury's assistant secretary for international markets for the past year, would replace J. Christopher Giancarlo at the helm of an agency that is the primary U.S. watchdog for the $595 trillion global derivatives market. Giancarlo has been at the CFTC since 2014 and was named chairman by Trump last year. His term ends in April, but he hasn't said when he'll step down.
If confirmed by the Senate, Tarbert would take over an agency that has seen its jurisdiction expand at a far faster pace than its budget in the years since the financial crisis. Giancarlo has been rebuffed in appeals for more funding even as the CFTC has added oversight of cryptocurrency markets to its role policing swaps and commodity markets.
Before joining Treasury in October 2017, Tarbert was a partner at law firm Allen & Overy in Washington. He's also worked for the Senate Banking Committee and was an associate counsel to President George W. Bush, according to his biography on Treasury's website.
The White House announcement comes as the CFTC and the European Union head for a showdown over an EU proposal on derivatives clearinghouses that Giancarlo has said could rupture global markets and boost trading costs. At Treasury, Tarbert has been co-chairman of the U.S.-EU Financial Regulatory Forum and policy chairman of a government committee that reviews foreign investments for national security risks.