Trump-Linked SPAC Cools Down After Short Position Emerges
(Bloomberg) -- Digital World Acquisition Corp. pulled back Monday following a wild 846% surge last week after a short-seller said it was betting against the Trump-linked special purpose acquisition company.
Shares of Digital World are trading around $89, or nearly nine times the SPAC's $10 debut in September. The stock, which had traded as high as $122 earlier in the session and $175 on Friday, slipped Monday afternoon as Iceberg Research said on Twitter that it was short DWAC. 
Digital World Chief Executive Officer Patrick Orlando declined to comment on the short position, adding that everything the company wants to tell the market will come through public filings.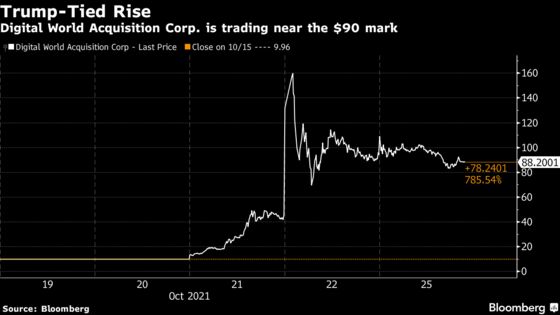 Meanwhile, shares of Creatd Inc., which announced a new non-fungible token drop that includes photos of Trump, surged as much as 69% early Monday after it was talked about on StockTwits and Reddit. But the stock is now down almost 1% for the session.