Trump and Kim Hail Prospects for Success at Start of Hanoi Summit
(Bloomberg) -- President Donald Trump and North Korea's Kim Jong Un sounded an optimistic note at the start of their second set of face-to-face meetings, as the U.S. leader sought to advance nuclear talks that have largely stalled since their first summit in June.
The two leaders shook hands and made brief remarks before a one-on-one meeting in Hanoi on Wednesday that kicked off their symbolism-rich follow-up to the unprecedented Singapore summit. They dined at the century-old Sofitel Legend Metropole Hanoi along with a handful of top officials including Secretary of State Michael Pompeo and Kim's No. 2, Kim Yong Chol.
Sitting next to Kim, Trump called their first summit in Singapore "very successful" and said "I think this one will hopefully be equal or greater." He said North Korea "has tremendous economic potential. I look forward to watching it happen."
Kim smiled throughout Trump's remarks, and said the leaders are meeting despite "eyes of distrust and misunderstanding everywhere and hostile old practices" that have tried to stop them since their last meeting.
"I am certain that the great outcome that everyone is glad to see will be made, and I will do my best to make it happen," Kim, wearing an all-black Mao suit, said in Korean. Later, at dinner, Kim said that he and Trump "exchanged very interesting dialogue for about 30 minutes."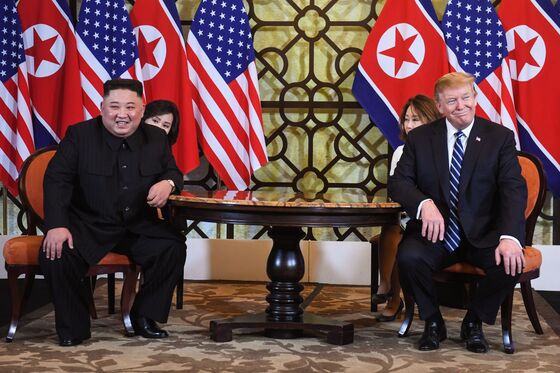 North Korea's state-run news service KCNA reported Thursday morning local time that the two leaders had "open and honest" discussions at the dinner and predicted the summit would "contribute to world peace and prosperity, and on the Korean Peninsula."
More substantial announcements are expected Thursday, when Trump hopes to build on their broad agreement last year to "work toward complete denuclearization of the Korean Peninsula." The two leaders are scheduled to hold a one-on-one meeting at 9:00 a.m. in Hanoi before an expanded meeting with aides. They will then have a working lunch and participate in a signing ceremony for a joint agreement, the details of which aren't known. Trump is scheduled to give a news conference at 3:50 p.m. in Hanoi.
While Kim has refrained from weapons testing since launching a missile in 2017 capable of hitting the U.S., he's made no commitments to disclose or dismantle his nuclear arsenal -- and appears to have expanded it.
Trump dismissed speculation about the Hanoi summit's outcomes on Wednesday, while at the same time hinting he might involve regional allies and adversaries in the nuclear talks.
North Korea participated in so-called six-party talks with those countries and the U.S. after withdrawing from the Nuclear Non-proliferation Treaty in 2003. But Pyongyang abandoned the talks in 2009, evicted international inspectors and resumed uranium enrichment.
Russian Foreign Minister Sergei Lavrov, who made an official visit to Vietnam just days before Trump and Kim arrived in Hanoi, said this week that the six-party talks should be revived if relations between the U.S. and North Korea improve, according to Russia's TASS news service.
Despite the tropical backdrop of the Vietnamese capital, Trump couldn't escape political turmoil back in Washington, where his former lawyer and fixer, Michael Cohen, was preparing to testify to a congressional committee that Trump knew of efforts to get Democratic Party emails released through Wikileaks during the 2016 campaign. The Democratic-controlled U.S. House also voted Tuesday to block the president's effort to circumvent Congress to pay for construction of a wall on the Mexico border with Mexico.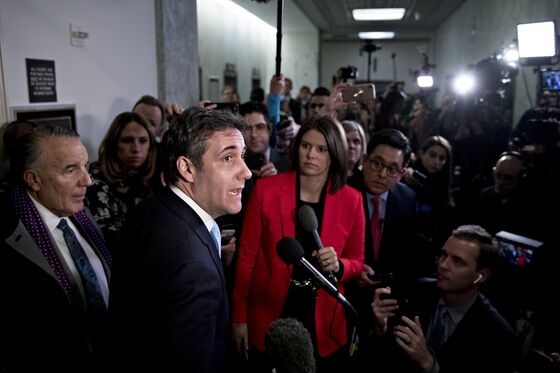 Between meetings with Vietnamese officials and dinner with Kim on Wednesday, Trump issued a tweet accusing Cohen of "lying in order to reduce his prison time" and attacking Democratic Senator Richard Blumenthal for falsely saying he served in Vietnam. "I have now spent more time in Vietnam than Da Nang Dick Blumenthal, the third rate Senator from Connecticut," Trump wrote, adding that he discussed the lawmaker with Vietnamese leaders.
The tweet about Blumenthal invited re-examination of Trump's own Vietnam War-era experience. The president received five deferments from the Vietnam draft, including a medical deferment for supposed bone spurs in his feet.
Cohen said in prepared testimony to the House Oversight Committee that Trump asked him to handle controversy over his medical deferment during the presidential campaign but never provided records confirming the bone spurs. Cohen said Trump told him: "You think I'm stupid, I wasn't going to Vietnam."
The White House has said Cohen is a liar, noting he pleaded guilty to making false statements to Congress in Special Counsel Robert Mueller's probe.