Trump Is Said to Consider Slapping Tariffs on Auto Imports
(Bloomberg) -- The Trump administration is considering slapping tariffs on automobiles imported into the U.S., a person familiar with the deliberations said, a move that may be designed to pressure Mexico and Canada to wrap up negotiations quickly over a new Nafta agreement.
Such a move, under the Section 232 authority President Donald Trump used to apply tariffs on steel and aluminum imports, would probably undergo months of Commerce Department review and culminate with a report laying out the case on national-security grounds. Almost one quarter of autos sold in the U.S. are imported, according to government figures.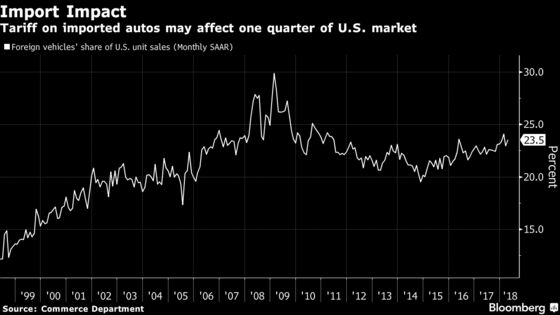 The proposal, reported earlier Wednesday in the Wall Street Journal, would further inflame relations with America's trading partners and could roil financial markets already jittery about trade tensions.
The U.S. is in talks with China on a deal to avoid tit-for-tat tariffs between the world's two biggest economies. In a tweet Wednesday morning, the president said a trade agreement with China may be "too hard to get done" and probably will require a "different structure." Trump's remarks damped expectations that the two sides may have reached a truce, after Treasury Secretary Steven Mnuchin said the U.S. had put its tariff plans "on hold."
The threat of car tariffs may put pressure on Mexico and Canada as they negotiate a successor to the North American Free Trade Agreement. Rules for regional content in cars have been one of the thorniest issues in the discussions.
The president signaled earlier Wednesday on Twitter that an important announcement was imminent to help the U.S. car-manufacturing industry. "There will be big news coming soon for our great American Autoworkers. After many decades of losing your jobs to other countries, you have waited long enough!" Trump said in the tweet.
The White House notified auto industry groups late Wednesday afternoon that an announcement would be coming soon, another person familiar with the matter said.
Section 232 of the 1962 Trade Expansion Act gives the U.S. president the power to impose tariffs on imports that imperil national security. It has been used sparingly by previous administrations. Earlier this week, China announced it was reducing its own car import tariffs to 15 percent from 25 percent.
Since the 2016 election campaign, Trump has repeatedly threatened to slap new tariffs on imported cars.
He revisited the possibility again on May 11, when he floated the idea of a 20 percent tariff on imported autos during a White House meeting with senior executives of 10 major automakers, a person familiar with the meeting said. He also suggested that imports should have to achieve tougher emissions standards than vehicles assembled in the U.S., the person said.
But it may be tougher for the U.S. to make a national-security case with a consumer product such as cars, than it did with steel and aluminum, two materials used in military equipment.