Trump Inaugural Donor Fails to Close Nuclear Power Plant Deal
(Bloomberg) -- Franklin L. Haney, a major political donor who gave $1 million to President Donald Trump's inaugural committee, appears to have failed in his quest to purchase and bring online an unfinished, decades-old nuclear plant in northern Alabama.
The Tennessee Valley Authority, the government-owned utility that had put the mothballed plant up for sale, said Haney's company, Nuclear Development LLC, failed to meet Friday's close-of-business deadline to consummate the sale.
"The parties were unable to complete the sale of the Bellefonte property after Nuclear Development's lack of progress in meeting its legal obligations related to future ownership of the site," TVA, which supplies power to 9 million customers in seven states, said in a statement. "Nuclear Development did not complete the necessary NRC license transfer prior to the closing date as required by the Atomic Energy Act."
TVA said it declined to provide an extension beyond the "nearly 25 months already provided due to Nuclear Development's lack of diligence in completing these required activities," while adding that it remains committed to returning the property to productive use. The utility decided to sell Bellefonte after determining in 2015 that its energy wouldn't be needed for 20 years.
The long-shot project, which Haney won with a $111 million bid, still lacked required federal permits to move forward. The only other bidder planned to sell the plant's parts as scrap.
A Nov. 13 request was made to transfer TVA's licenses and construction permits to Nuclear Development, according to documents posted on the Nuclear Regulatory Commission's website. Scott Burnell, an NRC spokesman, said that process could take up to 18 months.
"I'm not aware of any other case when we've transferred a construction permit," he said, adding that NRC was aware that Nuclear Development had to close on Bellefonte by Friday. "Our focus is on making sure our requirements are met as opposed to deadlines."
Nuclear Development was "ready, willing and able" to complete the Bellefonte purchase, said William McCollum, its chief executive officer. But, he said, TVA raised the issue of transferring permits for the project late in the process, and the company hadn't expected it.
He added that the company had "fulfilled all of its obligations under the sale agreement" and "will take legal options."
A call made after hours to Haney's office was not immediately returned.
Haney built a fortune and courted controversy over several decades by leasing office space to government agencies while contributing millions to mostly Democratic causes. His seven-figure contribution, made through another company he owns, to Trump's inaugural fund in December 2016 reflected a pivot for a mega-donor who has flown on Air Force One with President Bill Clinton and who gave to both of Hillary Clinton's presidential campaigns.
Bloomberg News reported last year that Haney had begun bragging about his close ties to Trump, citing three people in the energy industry who asked not to be named because Haney made the comments in private settings. He has been a member of Mar-a-Lago, Trump's private club in Florida.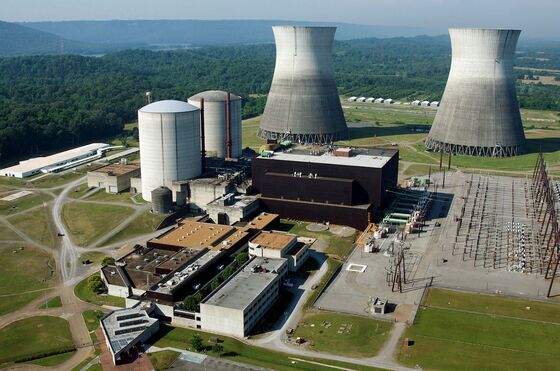 Haney, a Tennessee native, worked his way through college selling Bibles and ran for governor as a Democrat in 1974. His personal fortune, which has been estimated to top $1 billion, includes investments in office buildings leased by federal and state agencies in the Southeast and in Washington. He also invested in Virginia's Dulles Greenway Toll Road and made an unsuccessful attempt to purchase the Washington Nationals baseball team in 2005.
In 1998, he was indicted on charges of evading campaign-contribution limits by allegedly routing more than $100,000 in contributions through friends and relatives. A jury acquitted him in 1999. Since then, courts have struck down some campaign-finance rules, clearing the way for far larger contributions to certain committees.
A few years after his acquittal, Haney began trying to get into the nuclear power industry, at the unfinished Bellefonte site in the Alabama countryside. The plant includes two partly built nuclear reactors, cooling towers and other facilities on 1,400 acres. TVA began construction in 1974 -- then abandoned the project in 1988. Today, one of the units is about 55 percent complete, and the other is about 35 percent finished.
Haney's company said in its application to the NRC that it had obtained nuclear production tax credits, potentially worth up to $2 billion, from the Internal Revenue Service, and was negotiating with the Department of Energy for loan guarantees to help finance the project. At the time of its bid to TVA in 2016, the company estimated it would cost $13 billion to complete the Bellefonte project.
Even if he had managed to close on the purchase, many industry experts have expressed skepticism that the project could be profitable. Competition from low-cost natural gas and renewable energy sources has created difficult market conditions for nuclear plants.
Alabama officials -- including former Senator Jeff Sessions, who recently resigned as Trump's attorney general -- have broadly supported the idea of finally completing Bellefonte. Haney had estimated that the project would create 8,000 to 10,000 construction jobs and more than 2,000 permanent jobs once the plant was ion is operational.