Trump's New Nafta Deal Comes Just in Time for the Midterms
(Bloomberg) -- President Donald Trump's new trade deal to replace Nafta lets him boast that he achieved a campaign promise and claim vindication for his hard-line negotiating tactics -- just in time for the November midterm elections.
But he must convince a skeptical American public -- and Congress -- that a rework of the North American Free Trade Agreement will provide substantial economic gains for workers who bore the brunt of globalization over the past two decades.
His effort to promote the new accord may be critical for congressional Republicans, who are facing an uphill climb to maintain control of the House of Representatives in the November elections.
"For a president who focuses on the headline, this is politically useful," said Julian Zelizer, a professor of history and public affairs at Princeton University. "He will say he's a tough negotiator, and there's a product he can put behind those words."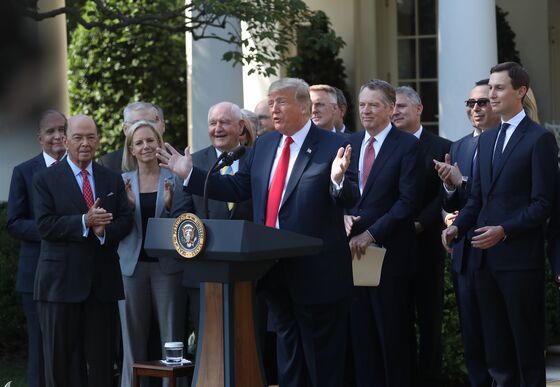 The new trade accord, clinched just before a midnight deadline on Sunday, reads like an amalgam of the existing Nafta along and provisions of the 12-nation Trans-Pacific Partnership that Trump abandoned on his first full working day in office. Some economists worry the new accord risks more regulatory demands on companies including automakers and ends up hurting rather than helping North America's competitiveness versus rivals like China.
For now, the president can skirt such criticism.
"I have long contended that Nafta was perhaps the worst trade deal ever made," Trump said at a victory speech in the White House Rose Garden on Monday. "Throughout the campaign I promised to renegotiate Nafta and today we have kept that promise."
But eventually, Trump will face questions about the impact of his trade tariffs on American workers and consumers, Zelizer said. He also faces uncertain prospects for congressional approval of what he calls the "United States, Mexico, Canada Agreement" if Democrats retake one or more chambers of Congress.
Voters outside the president's base have largely soured on the Republican party, and Trump's multi-front trade war has squeezed farmers and manufacturers across Rust Belt and Grain Belt states that helped propel him to the Oval Office.
Trump's branding effort of the new trade deal began immediately. Recognizing that the very word Nafta is anathema in many parts of the country, Trump insisted on the new name, with an abbreviation -- USMCA -- evocative of the Marine Corps.
"Has a good ring to it," Trump said in the Rose Garden.
Politically Sensitive Industries
Trump and his aides focused on provisions of the deal directed at a few politically sensitive economic sectors, especially auto production and dairy farming.
Provisions allowing American farmers to sell more duty-free milk to Canada provide a talking point for Republican congressional candidates in Wisconsin, Minnesota, and upstate New York -- areas where Trump's party faces particularly tough re-election battles. The president will travel to Minnesota, home to a number of crucial toss-up House races, for a campaign event later this week, and singled out Wisconsin Governor Scott Walker, a Republican in a difficult reelection fight, during his remarks announcing the new agreement on Monday.
The improvements for dairy exports aren't significantly better than those negotiated by the Obama administration in the Trans-Pacific Partnership, which would have included Canada and Mexico and largely replaced Nafta. But that won't stop Republicans from bragging of the gains.
The administration's concern for milk producers has been clear for months. Trump regularly berates Canada for its dairy tariffs, and dairy farmers were allocated $212 million in government aid and direct purchases in August as part of a Department of Agriculture package designed to soften the impact of the trade war.
Trump held up the new trade deal, negotiated while Canada and Mexico were under threat of more U.S. tariffs, as a repudiation to critics who've complained of his duties on steel, aluminum and Chinese goods. "Babies out there that keep talking about tariffs," Trump said Monday.
Trump may find a receptive audience in the American public. Some 48 percent of Americans said they believed the Nafta renegotiation would be good, according to an Ipsos poll released late last month, while only 11 percent said they saw a new deal as likely bad.
He has plenty of room the to shape the narrative. Nearly three in 10 Americans said they didn't know if the new agreement would be a positive or negative thing, and 56 percent of Americans said they had barely or not at all been following progress of the talks.
But that inattentiveness is also Trump's biggest challenge: nearly three in four Americans say they aren't personally affected by Nafta.
He's also got some work to do with labor. Trump argued that the accord is a "historic win for American manufacturers," especially automakers. One provision requires that 40 percent of a vehicle made in North America come from factories with a $16-an-hour average wage or higher, which should benefit producers and workers in the U.S. or Canada over those in Mexico.
The U.S. also retained the right to impose tariffs on vehicles imported from Canada or Mexico once those shipments hit a 2.6-million-car threshold.
American auto workers, Trump claimed, were "very much behind" his renegotiation -- an attempt to undercut concerns from some union leaders. But Richard Trumka, president of the AFL-CIO, the largest umbrella group for U.S. labor unions, issued a non-committal statement on Monday.
"Too many details still need to be worked out before working people make a final judgment on a deal," he said. "Our history of witnessing unfair trade deals destroy the lives of working families demands the highest level of scrutiny before receiving our endorsement."