Trump Says He Expects Improved Turkey Relations After Pastor's Release
(Bloomberg) -- President Donald Trump said he looks forward to improved U.S.-Turkish relations, hours after U.S. evangelical pastor Andrew Brunson arrived back in the country to a White House welcome following his release from captivity in Turkey.
But Trump gave no firm indication that the U.S. is preparing to lift economic sanctions against Ankara imposed earlier this year. "We were very tough on Turkey, and we'll take a look," he said.
The president also said there no linkage between Brunson's release and the alleged murder of a Washington Post writer at Saudi Arabia's consulate in Turkey, and rejected a suggestion that the U.S. cancel arms deals with the kingdom.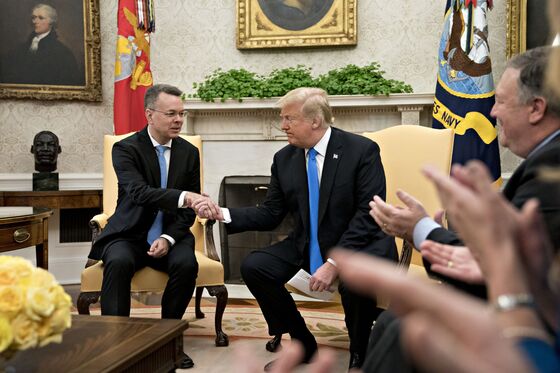 Trump hosted Brunson, wife Norine and their children at the Oval Office Saturday at a meeting attended by administration members including Secretary of State Michael Pompeo and National Secretary Adviser John Bolton, and members of Congress including Republican Senators James Lankford of Oklahoma and Thom Tillis of Brunson's home state of North Carolina.
Trump said he'd spoken with Pompeo about the case regularly for months, and that pressure for action on Brunson had been bipartisan.
"I just want to congratulate you, because you have galvanized this country," Trump told Brunson. He also thanked Turkish President Recep Tayyip Erdogan "for making this possible."
"Go home and have a great life," Trump told Brunson before jokingly asking Brunson's wife whom she'd voted for in the 2016 election.
Brunson's captivity had become a focal point in the deteriorating relations between the U.S. and Turkey, with American officials in August imposing fresh sanctions over his imprisonment in August.
The 50-year-old was freed on Friday after two years of jail and house arrest in Turkey, where he'd lived for more than 20 years. A court in Izmir found Brunson guilty of aiding people involved in a 2016 attempted coup, charges he has denied.
Brunson and his wife were taken to the White House shortly after arriving at Joint Base Andrews outside Washington around midday.
Trump said at a rally Friday that he made no concessions in exchange for Brunson's release, which the Turkish court had granted earlier that day when it lifted all judicial controls due to good behavior and time served.
He reiterated that point on Twitter Saturday morning, saying "NO DEAL" had been made for Brunson's release, and during the White House meeting, where he said "we do not pay ransom in this country."
In August, Trump doubled tariffs on Turkish steel and aluminum imports and slapped sanctions on two of Turkey's government ministers, as the U.S. sought to crack down on Turkey over Brunson's detention.
While White House Press Secretary Sarah Sanders said at the time that the U.S. would consider lifting the sanctions against Turkey's Justice and Interior ministers if Brunson were released, though the White House didn't announce any changes on Saturday. Sanders said in August that the tariffs for Turkish steel and aluminum were related to national security and wouldn't be lifted after Brunson's release.
"This is a tremendous step toward having the kind" of relations with Turkey that would be the best, Trump said.
The president said the timing of Brunson's release wasn't related to the developing situation with Saudi Arabia over the fate of Washington Post writer Jamal Khashoggi, and, as he did two days ago, rejected the idea that the U.S. should cancel large arms deals with the kingdom.
"I actually think we'd be punishing ourselves," Trump said.