Trump Says He'll Evaluate Mounting Allegations Against Interior Secretary
(Bloomberg) -- President Donald Trump said he will take a look at allegations surrounding Ryan Zinke, amid intensifying scrutiny of a Montana land deal involving the Interior secretary.
"I'm going to take a look at any reports," Trump told reporters at Joint Base Andrews Monday. "He's done a very good job as secretary."
The Interior Department's inspector general has launched at least seven probes into Zinke's actions as secretary.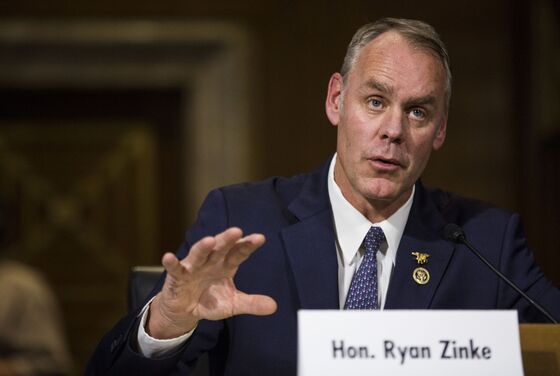 A separate independent federal investigative agency also has opened as many as six other inquiries into allegations Zinke engaged in improper political activity -- a volume that has invited comparisons to Trump's ousted EPA chief, Scott Pruitt.
Zinke has enjoyed the president's support while playing a leading role in Trump's campaign to roll back environmental regulations and drive U.S. energy development. Under Zinke, the Interior Department moved to auction off more land for oil development, ended a moratorium on leasing federally owned coal and repealed mandates governing drilling.