Trump, EU Far Apart on Trade, Kurz Says After Meeting President
(Bloomberg) -- Donald Trump and the European Union are still far from a deal to avert threatened tariffs on European cars, Austrian Chancellor Sebastian Kurz said after what he described as contentious exchanges during a meeting with the U.S. president.
The two argued over trade and energy policy, areas in which "our relationship has seen better times," during talks at the White House on Wednesday, Kurz said. The 32-year-old Austrian leader said he proposed to Trump a wider trade framework that would include U.S. ambitions in areas such as agriculture.
"I think he would be ready to make a deal, and we in the EU want one," Kurz told Austrian public broadcaster ORF after after the 60-minute meeting. "But the positions are very far apart and the White House sometimes takes decisions quickly, so we can't rule out that those tariffs will come."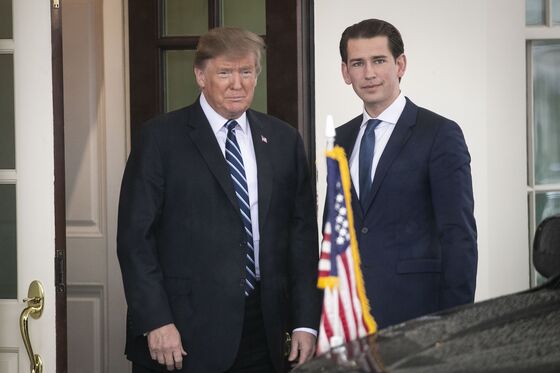 Kurz, Europe's youngest head of government, has drawn interest in the White House as a fresh conservative face challenging the EU's center-right establishment. Kurz gained prominence in Europe when he opposed Germany's Angela Merkel's immigration policy and formed a government coalition with the nationalist Freedom Party. Supporters in the U.S. government portrayed him as a potential role model beyond small Austria.
Kurz is trying to position himself as a mediator between the U.S. administration and Europe as disputes over tariffs, energy and sanctions against Iran are mounting. Trump's relations with Germany and France have reached a low point, allowing Kurz to try to fill a niche for the neutral country of nine million.
"He really seems to have it in for Germany in particular," Kurz said in the ORF interview. "We tried to raise awareness that he wouldn't just hit Germany but also neighboring countries like Austria."
Kurz said that Trump reiterated that he's opposing the Nord Stream 2 gas pipeline that is designed to bring Russian gas to Germany. The U.S. has threatened to sanction companies that are part of the pipeline consortium. Austrian oil and gas company OMV AG is an important backer and Kurz told Trump he supports the pipeline.
"More gas supply routes to Europe wouldn't have any negative effects for the United States," Kurz said. Europe would buy more natural gas from the U.S. if the price was competitive.
Kurz was the first Austrian chancellor to visit the White House since 2005. The U.S. is Austria's second-biggest export market after Germany, and Austrian companies including Voestalpine AG or Andritz AG have invested in the country to boost production of auto parts and machinery equipment.