Trump Antitrust Boss Said Committed to Merger Stance After AT&T
(Bloomberg) -- The head of the Justice Department's antitrust division is sticking to his position about how to protect competition from mergers that may harm consumers despite suffering a bruising defeat this week, according to a person familiar with his thinking.
Makan Delrahim is maintaining his view that the Justice Department should require companies to sell assets to fix anticompetitive harm from deals like AT&T Inc.'s takeover of Time Warner Inc., said the person. In his view, that approach ensures markets determine the prices that consumers pay, the person said.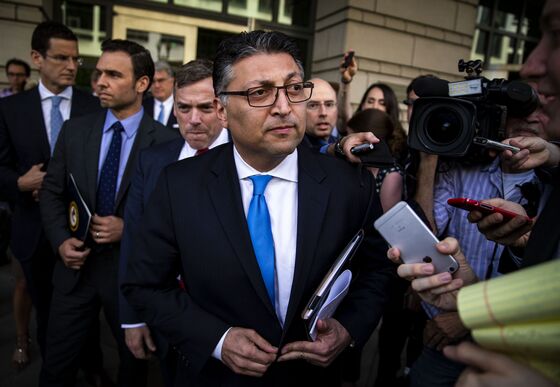 President Donald Trump's choice for the powerful post suffered the most significant loss of his career after a federal judge Tuesday roundly slapped down his high-stakes gamble to block the Time Warner deal. And his job will get tougher as companies including Comcast Corp. jockey to take advantage of the decision to get big deals done, sparking expectations of a merger wave.
As he left the E. Barrett Prettyman Courthouse in downtown Washington after the AT&T decision, Delrahim said he hadn't changed his mind that challenging the Time Warner takeover was the right move.
"I've taken an oath to uphold competition," he told reporters. "We're going to take a review of the opinion and take the next steps as necessary."
Even with the loss, Delrahim, 48, is winning praise for taking an aggressive stand on mergers between companies that don't compete directly, also known as vertical tie-ups.
"Makan Delrahim deserves credit for his willingness to litigate a vertical merger, something no other enforcer, Republican or Democrat, has been willing to do for decades," said Michael Kades, a former Federal Trade Commission lawyer who's now at the Washington Center for Equitable Growth, a think tank. "The question is whether Makan and the antitrust division will maintain that courage."
The Justice Department now needs to decide whether to appeal the ruling.
"Losing a case hurts, but the Justice Department is playing a very long game," said Tim Wu, a professor at Columbia Law School. "It is obvious to most observers that economic concentration is at historic levels, and that is the antitrust's job to deal with."
Delrahim was a deputy in the White House Counsel's Office when President Trump picked him last year to lead the antitrust division. Before entering the White House, he was a lawyer with Brownstein Hyatt Farber Schreck LLP. He joined the Justice Department just as AT&T was nearing the end of the antitrust investigation into its $85 billion agreement to buy Time Warner, owner of CNN and HBO.
It was a deal widely expected to win approval just like an earlier merger that united a pay-TV distributor with a content company: Comcast's takeover of NBCUniversal in 2011. Both deals were unique in that they didn't combine direct competitors, but brought together companies operating in different parts of the pay-TV supply chain.
These vertical deals have historically received a light touch from enforcers because they didn't reduce the number of firms competing. When there were concerns about competition, such as when Comcast bought NBC, they were dealt with by imposing conditions on how a company operated. In Comcast's case, that meant ensuring that online video competitors to Comcast could get access to NBC content.
Delrahim threw out that playbook in a November speech at the National Press Club in downtown Washington. Before a room packed with antitrust lawyers, he said putting conditions on companies turned competition enforcers into regulators who must then monitor compliance with settlement terms.
Instead, he said, companies would have to sell businesses to address threats to competition. Less than a week later, the Justice Department sued AT&T after Chief Executive Officer Randall Stephenson balked at Delrahim's request that he sell either DirecTV or Turner Broadcasting to get the deal done.
After a six-week trial, U.S. District Judge Richard Leon sided with AT&T, rejecting the core of the government's case and assailing its expert witness, economist Carl Shapiro, as unreliable and lacking credibility.
Delrahim will certainly take the decision into consideration when evaluating the next vertical deal, said Logan Breed, an antitrust lawyer at Hogan Lovells in Washington.
"They need to decide whether they go to the mat or not," Breed said. "They may very well be more gun-shy next time."
But others don't expect the AT&T decision to lead to a pull-back in enforcement of vertical mergers.
"Some are going to take the view that this means the floodgates are open for vertical mergers," said economist Steven Salop, a professor at Georgetown University. "I doubt that will be the case."
Delrahim may take solace from the Justice Department's record of bouncing back from defeat. The government lost its effort to block Oracle Corp.'s acquisition of PeopleSoft Inc. in 2004, leading to a dry spell of merger litigation that many attributed to fear of losing another case. Then, under President Barack Obama, the antitrust division focused on becoming "litigation ready" when investigating deals, spawning an unbroken record of high-profile merger blocks until this week.
Still, none of the division's chiefs under Obama sued to block a vertical deal. That makes Delrahim an outlier who is willing to take on a fight.
"I can't criticize anybody for taking a risk in an area where it's been a long time coming for the government to step in and up its game," said Gene Kimmelman a former U.S. antitrust official and president of the consumer advocacy group Public Knowledge in Washington. "It's going to take time to see whether Delrahim's enforcement practices remain consistent and forceful enough to vindicate his vision of promoting competition."