Trump Activates a Risky Plan B
Donald Trump failed to bend Congress to his will, so he's going to try to bypass it altogether by declaring a national emergency – a move that could set off a bitter and protracted legal fight over the limits of presidential authority.
Trump is turning to an expansive use of presidential power to build his promised wall along the Mexico border, shifting the fight over funding to uncertain ground in the federal courts rather than risking another politically damaging government shutdown.
Trump plans to unilaterally shift about $7 billion in federal resources to construct physical barriers along the frontier, Margaret Talev and Justin Sink report. The maneuver – sure to provoke a legal challenge – is expected to come as the president signs a compromise spending package today that includes $1.375 billion for border fencing.
The gambit, which divided congressional Republicans, is an admission that Trump failed to persuade lawmakers to back him on the wall despite an eight-week standoff that included a record-breaking 35-day partial government shutdown.
If Trump succeeds, he could once again drastically reshape the presidency.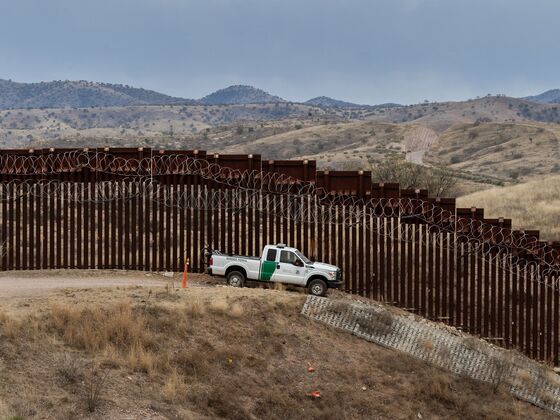 Spanish election | Prime Minister Pedro Sanchez called a snap election for April 28, a decision he was forced into after parliament rejected his budget. This will be the third election in just over three years, and a backlash against Catalan separatists and their high-profile bid to break away from Spain could drive voters towards Vox, a new party talking up national unity and conservative Christian values. Here's a guide to what comes next.
High noon | Last night's defeat in Parliament means U.K. Prime Minister Theresa May effectively has two weeks to save her Brexit deal. Politicians see the next vote on Feb. 27 – just one month before Britain is due to leave the European Union – as the "high noon" moment to seize control if May doesn't secure revised terms from Brussels. Her government has privately watered down its demands to try to get the EU to compromise; it will be to no avail if May can't persuade rebels in her own party to do the same.
Deal or no deal | Though Treasury Secretary Steven Mnuchin said meetings had been "productive," the latest round of high-level trade talks wound up in Beijing with little visible progress toward a deal. It will likely take a meeting between Trump and Xi Jinping to narrow differences around the reforms to China's economy requested by the U.S. The negotiations with Beijing are just one of the impasses on Trump's trade agenda, as the 2020 political clock increases the impetus to deliver a spate of promised deals.
Stress test | The worst terrorist attack on Indian Prime Minister Narendra Modi's watch has dialed up the pressure on him to approve a military response against Pakistan. Islamabad has denied any link to Jaish-e-Mohammed, the group that claimed responsibility for the ambush that killed at least 37 paramilitaries in disputed Kashmir, but as India heads into an hotly-contested election, Modi may find calls for retaliation ring loud.
Dirty laundry | Brazil's vice president has admonished President Jair Bolsonaro's son for weighing in on social media over a campaign funds scandal involving Gustavo Bebianno, the secretary-general of the presidency and former president of the ruling PSL party. In an interview that exposes the growing rivalries in Bolsonaro's inner circle, Hamilton Mourao said "the old saying goes that dirty laundry you wash at home.''
And finally...Businesses in South Africa have struggled to operate amid rolling blackouts that affect their operations for up to five hours at a time. President Cyril Ramaphosa has called the power cuts by Eskom – which the cash-strapped utility hopes will end this weekend – a "hugely damaging reality check." When the electricity cuts out, the local contractors who use Ronald van Weely's paint and hardware store stop working. Three of his six delivery trucks are parked in the yard while he sits in a back office lit only by a rechargeable lamp and the light from his smartphone screen.