Trump-Abe Talks at White House to Focus on Trade, Economic Ties
(Bloomberg) -- President Donald Trump and Japanese Prime Minister Shinzo Abe plan to discuss how to deepen trade and economic ties in energy, digital connectivity and infrastructure during talks Friday at the White House.
Meetings between the two leaders will include top trade and economic officials from both countries, according to a senior U.S. official who requested anonymity to discuss the talks.
The U.S. is pushing to reduce its trade deficit with Japan and gain better access to the Asian nation's agricultural market. Japan is looking for a concrete promise that it won't be hit by possible U.S. tariffs on auto imports, after successfully winning an exemption to taxes imposed by the Trump administration last year on steel and aluminum.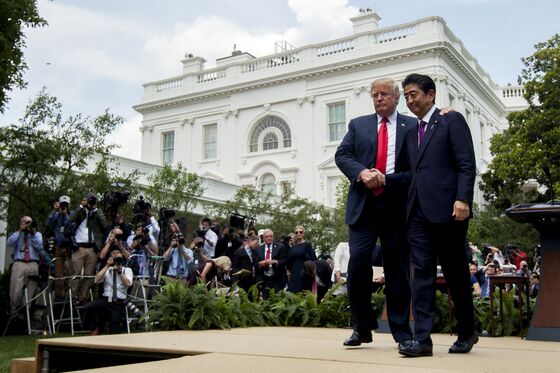 The U.S. and Japan kicked off bilateral trade talks last week, after Japan dragged its feet for more than two years in the hope that the U.S. might rejoin the successor deal to the Trans-Pacific Partnership agreement. Trump pulled the U.S. out of the partnership soon after his inauguration, and the 11 other members, including Japan, forged a successor deal called the CPTPP.
The Trump-Abe sit-down comes after Japanese Economy Minister Toshimitsu Motegi met with U.S. Trade Representative Robert Lighthizer in Washington on Thursday. Japanese Finance Minister Taro Aso held a separate discussion on currencies with Treasury Secretary Steven Mnuchin. Aso told Mnuchin that Japan opposes a U.S. effort to link trade and currency policies.
Trump and Abe are expected to discuss priorities for the Group of 20 meeting later this year in Osaka, according to the U.S. official. The leaders also are planning to devote part of their talks to the White House's efforts to negotiate a nuclear deal with North Korea.
This week, Kim Jong-Un, the North Korean leader, met for the first time with Russian President Vladimir Putin, in a signal that Kim could be seeking new leverage in the nuclear talks. Kim used the session with Putin in Vladivostok to accuse the U.S. of "bad faith" in the negotiations, the state-run Korean Central News Agency said Friday.
Trump abruptly ended a February summit with Kim in Hanoi, saying that Kim was seeking broad sanctions relief without offering to fully end his country's nuclear weapons program.
After their talks, Abe and Trump are expected to have a private dinner that will also serve as a birthday celebration for First Lady Melania Trump, who turns 49 on Friday. Abe has been among the American president's favorite world leaders, and they have played golf on multiple occasions.
Abe and Trump will see each other again soon, with Trump scheduled to travel to Japan next month where he will be the first world leader honored with a state visit after the enthronement of Japan's new emperor, Naruhito.