Trulieve Shows Pot Companies Can Beat Earnings Expectations
(Bloomberg) -- Trulieve Cannabis Corp. reported "another blowout quarter," in the words of one analyst, showing that it is possible for pot companies to beat earnings expectations.
After a week that saw Canada's four largest cannabis producers miss estimates, hammering the sector, the strong results from Florida's largest pot company indicate that the quarter may look brighter for U.S. operators.
Trulieve reported third-quarter revenue of $70.7 million, ahead of the consensus estimate of $65.6 million, and adjusted earnings before interest, taxes, depreciation and amortization of $36.9 million. Shares rose as much as 7% Tuesday.
It also reaffirmed its 2019 and 2020 guidance, which calls for $220 million to $240 million of revenue this year and $380 million to $400 million next year, with Ebitda growing to $140 million to $160 million by 2020.
"Given the momentum within the Florida market, and Trulieve's robust profitability metrics, we believe the company's 2020 guidance goal posts are likely to prove to be somewhat conservative," Canaccord Genuity analyst Derek Dley wrote in a note, calling the quarter a "blowout" and "exceptionally strong."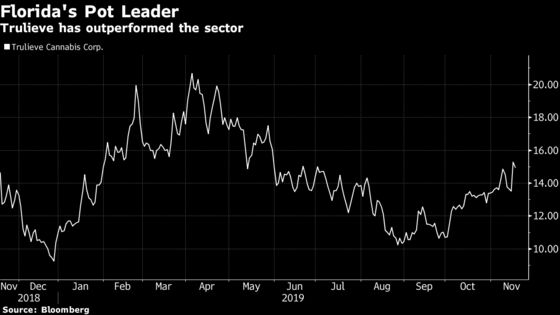 Trulieve's stock is up 36% this year, although it's down 28% since its high in early April.
The company held 53% market share for THC concentrate and 46% for dry flower in Florida during the quarter, Dley said. It also expanded its active patient count by 19% to 215,000, or approximately 80% of active patients in the state.
Other large U.S. cannabis companies reporting this week include Curaleaf Holdings Inc. Tuesday night, Harvest Health & Recreation Inc. Wednesday morning, and Green Thumb Industries Inc. Wednesday after the bell.