Trudeau Says Ex-Attorney General Never Came to Him About SNC
(Bloomberg) -- Canadian Prime Minister Justin Trudeau acknowledged there was an "erosion of trust" between his office and his former attorney-general over SNC-Lavalin Group Inc., though she never came to him directly to express her concerns about aiding the embattled construction firm.
Trudeau, in a press conference in Ottawa Thursday morning, gave his most fulsome response yet to the saga that has already seen two cabinet ministers quit, and forced his longtime friend and senior aide to step down. While recognizing there were lessons to be learned from the saga, Trudeau declined to apologize and insisted no inappropriate actions were taken.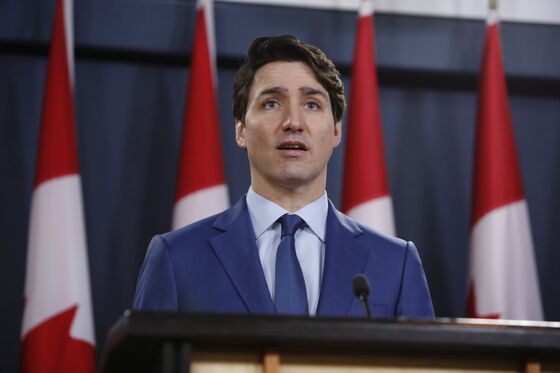 "There was no inappropriate pressure," Trudeau said. "I'm obviously reflecting on lessons learned in this."
The scandal centers around what efforts Trudeau and his staff made to intervene to end a criminal case facing SNC, an iconic firm in vote-rich Quebec, the province that includes the prime minister's own district. His ex-attorney general, Jody Wilson-Raybould, alleges she was inappropriately pressured to help the company. Trudeau says he was worried about saving jobs, but never ordered her to do anything.
Trudeau acknowledged some conversations with her, but said he always believed the final decision was Wilson-Raybould's and that she didn't directly come to him to complain about the series of conversations.
"Each of these interactions was a conversation among colleagues about how to tackle a challenging issue," Trudeau said. "However, I now understand that she saw it differently."
Trudeau's comments were delivered the morning after his former aide Gerald Butts testified at a parliamentary committee, saying Wilson-Raybould hadn't firmly ruled out intervening, and her objections ramped up only when her cabinet post was shuffled. The scandal has damaged Trudeau's poll numbers ahead of an election this fall.
Trudeau said he was not aware that trust was eroding between his office -- namely, his ex-aide Butts -- and Wilson-Raybould. He said SNC faces "potential job losses in the thousands" as a result of the prosecution.
"I have taken and will continue to take many lessons from these days and weeks," he said, including whether Canada may split the dual role of justice minister and attorney general. The justice minister is considered a more political role, while the AG's is not.
Wilson-Raybould has alleged she and her staff were pressured from September through December to reconsider whether to issue a deferred prosecution agreement for SNC-Lavalin, to settle years-old corruption charges related to the firm's work in Libya. A guilty conviction could include a ban on receiving federal contracts, while a DPA would see the company avoid that, essentially admit wrongdoing and pay a fine.
SNC-Lavalin employs about 9,000 people in Canada, and Trudeau and Butts have said it was those jobs they were looking to protect. Both say they never ordered Wilson-Raybould to do anything.
The story erupted in February, after which Wilson-Raybould quit cabinet. Wilson-Raybould detailed her version of events to lawmakers last week. Another minister quit this week -- Jane Philpott, who had in January warned Trudeau that Wilson-Raybould would see her portfolio change as a demotion related to SNC-Lavalin.
The incumbent Liberal Party sits at about 33 percent in national polls -- still competitive in Canada's multiparty system, but trailing the Conservative Party at 36 percent, according to a poll aggregator run by the Canadian Broadcasting Corp. It projects the Conservatives and Liberals would win a similar number of seats, though neither with a majority, if an election were held today.