Trudeau Begins Third Term With Stronger Finances Than Expected
Prime Minister Justin Trudeau's government released new budget estimates that showed an improving economy and smaller deficits than projected, though tens of billions of dollars in campaign pledges have yet to be accounted for.
Canada is on track to post a C$144.5 billion ($112 billion) deficit for the fiscal year that began April 1, down from a gap of C$154.7 billion projected in the April budget, according to a fiscal update released Tuesday in Ottawa. The final deficit number last year was also smaller than projected, C$327.7 billion versus the C$354.2 billion forecast previously. 
The better-than-expected financial picture reflects stronger income being driven in part by higher oil prices.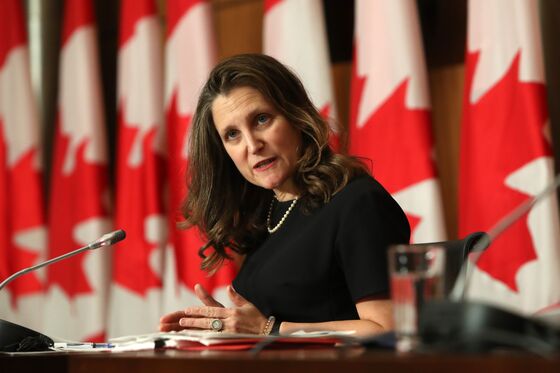 It's a much better fiscal starting point for the governing Liberals as they begin a third mandate after winning re-election in September. That leaves Trudeau, and Finance Minister Chrystia Freeland, more breathing room to finance campaign promises without undermining the nation's creditworthiness or fueling deficits that could stoke already elevated inflation.
"We know that Canadians work hard to earn a living and expect us to be careful with their money," Freeland said in a speech to the legislature, according to prepared remarks provided to journalists. "We know we have a duty to do the right thing for today, and for tomorrow."
The document released Tuesday is a simple update of projections and not a "mini-budget," as has been the case in past mid-year fiscal reviews. It excludes, for example, the bulk of the C$78 billion in new spending promised in the Liberal election platform.
It does provide some spending on new Covid-19 measures and compensation related to the nation's Indigenous child welfare system.
New spending in the current fiscal year alone is worth C$28.4 billion. That includes C$17.5 billion in Covid-related measures, C$5 billion in recovery costs due to flooding and fires in British Columbia, and C$4 billion set aside for Indigenous compensation.
In total, the government set aside C$40 billion in funding for Indigenous child welfare, with about half of that related to settling ongoing litigation and half for longer-term reforms to improve the system. That includes a C$16 billion provision in the fiscal year that ended in March.
The fiscal update comes with Canada's inflation rate at its highest level in two decades, putting pressure on Trudeau's government to pull back on spending and address the spiking prices of food, gas and housing. The budget document comes a day after Freeland renewed the Bank of Canada's 2% inflation target, touting the move as a bulwark against inflationary pressures.
But there are also pressures to spend, including a potentially massive wave of new Covid-19 cases caused by the highly transmissible omicron variant, and the looming potential of more economic disruption due to public health measures to control the spread of the virus.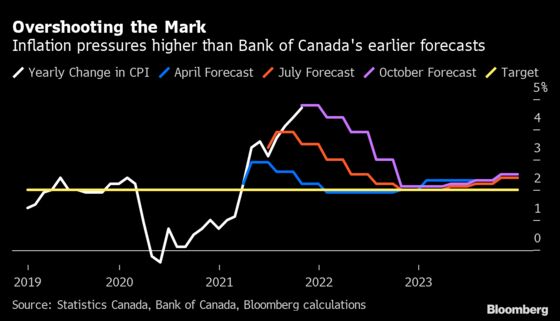 "As we brace ourselves for the rising wave of omicron, we know that no one wants to endure new lockdowns," Freeland said. "That's why vaccines, vaccine mandates, boosters, ventilation and rapid tests are so essential."
Overall, the fiscal update includes C$30.8 billion in new spending related to Covid-19 through the 2026 fiscal year. This year, that includes C$1.45 billion on acquiring rapid tests, C$1 billion on acquiring Covid-19 therapeutics, and C$894 million on enhanced border and quarantine measures.
There's plenty of cushion to pay for the new spending. The fiscal update sees a stronger trajectory for national income than projected in April budget, boosting revenue higher by an average annual C$18 billion per year.
Program expenses that were budgeted in April are also coming in less than initially expected over the two pandemic years, thought higher than projected beyond that.
The net impact of the changes and updated forecasts are a smaller deficit trajectory, with budget gaps declining to C$13.1 billion by 2026. 
Canada's federal debt as a proportion of total economic output will now peak at 48% this year, before dropping to 44% by 2026. It was seen reaching 51.2% in the April budget.