Trouble for Asia's Biggest Budget Airline Adds to Airbus Woes
(Bloomberg Businessweek) -- In 2001, when Malaysian entrepreneur Tony Fernandes introduced Asia's first low-cost airline, AirAsia, by purchasing a failing two-plane carrier for less than $1, it was the perfect time and place. The region's economic ascent was raising millions of families each year into a new middle class that was eager to travel. Governments from Malaysia to China were building modern international terminals and more runways and often welcomed upstarts to help draw business travelers and tourists. And in most of Southeast Asia—a group of 11 countries with 25,000 islands spread over an area larger than North America—air travel was the easiest and often the only way to get around.
Other entrepreneurs followed, and by 2018 low-cost airlines had half of the region's rapidly expanding market. Before the coronavirus pandemic, AirAsia was serving 159 cities, and the International Air Transport Association estimated the number of passengers in the Asia-Pacific region for all carriers would more than double by 2037, to 3.9 billion.
But Fernandes and other low-fare high flyers were slammed in January when air travel was recognized as a prime conduit for spreading the deadly disease. With 96% of its planes grounded, the aviation empire Fernandes built is hemorrhaging cash. AirAsia's woes—especially at its loss-ridden AirAsia X arm, which flies longer routes—are also casting a shadow over European plane maker Airbus SE. AirAsia X has about $23 billion in orders for its new, fuel-saving A330neo widebody jet, making it the plane's largest customer. "AirAsia brought a major change in the aviation industry in Asia," says Shukor Yusof, founder of aviation consultant Endau Analysis in Malaysia. That's under review, he says, "because the way people fly will change after the virus is contained. The days of crazy, expensive expansions are over."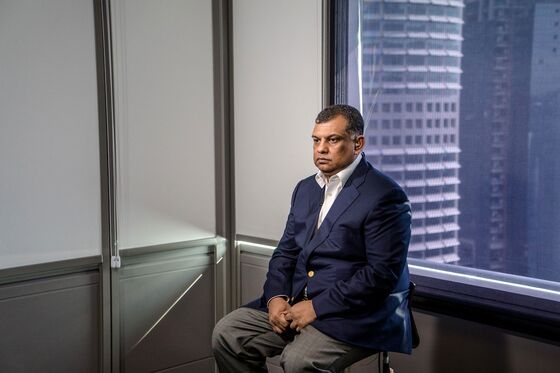 For airlines worldwide, which IATA expects to lose $314 billion in passenger revenue this year, the immediate priority is money. Budget carriers typically take on mountains of debt to buy planes before they even begin flying. With those aircraft idled, and thousands of customers seeking refunds for canceled flights, raising capital has become key. AirAsia may be burning about 527 million ringgit ($122 million) in cash per month in fixed operating costs, financing costs, and fuel hedging losses, according to Raymond Yap, an analyst at CIMB Group Holdings Bhd. He estimates the carrier has enough cash to pay its fixed costs for less than five months. "AirAsia will have to tap into new debt facilities and defer payments to its suppliers," he wrote in an April 6 report. "Although AirAsia is not government owned, we believe that the Malaysian government will not allow AirAsia to fail, as it will hurt Malaysia's economy."
In an April 2 interview on Bloomberg Television, Fernandes said AirAsia was working with the government to obtain a loan but has enough cash to last most of this year. He also said the company hopes to restart ticket sales in mid-April. To raise cash, AirAsia ran a promotion in February offering Malaysia-based customers unlimited flights to all AirAsia X destinations in Australia, China, India, Japan, and South Korea for a year for 499 ringgit.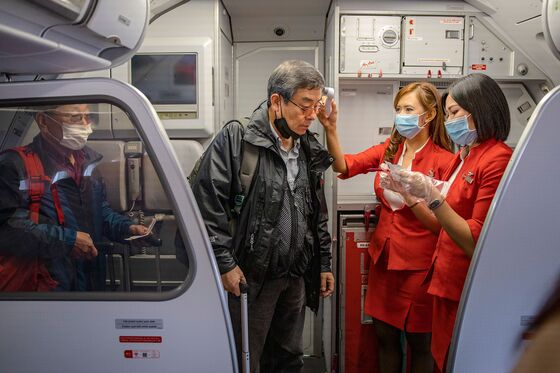 Rivals are also seeking funds to weather the storm. Singapore Airlines Ltd., whose budget unit Scoot competes directly with AirAsia, last month said it would raise about S$8.8 billion ($6.2 billion) by selling new shares and convertible bonds, a plan backed by Singapore's sovereign wealth fund Temasek Holdings Pte, the carrier's biggest shareholder. And South Korea is considering an emergency loan program worth 300 billion won ($246 million) and deferrals of airport fees for its virus-slammed discount carriers.
Shukor warns that the recovery will be slow and that companies with access to funds have the best chance of survival. Prominent victims of any industry shakeout could be long-haul low-cost carriers such as AirAsia X. Low-cost carriers depend on higher asset utilization to differentiate them from competitors, says Rob Morris, the global head of consulting at Cirium's Ascend aviation unit. That's easier to do on short hops by simply increasing the number of flights a plane operates in a single day, but it's harder for long-distance runs that last many more hours. "I don't think that is feasible for long-haul," he says. "Utilization is the same [as on full-fare carriers], and there is no cost advantage."
AirAsia is weighing options for its long-haul unit, including attracting an investor to shore up its finances, people familiar with the matter said last month. Other possibilities include seeking support from Malaysia's sovereign wealth fund, integrating AirAsia X into the parent group, or shutting the division altogether. That would be a major blow for Airbus and the A330neo, a more fuel-efficient variant of its popular long-haul widebody, designed to compete with the Boeing 787. Fernandes formed a close relationship with Airbus over the years, and AirAsia has more than 460 of the European manufacturer's planes on order.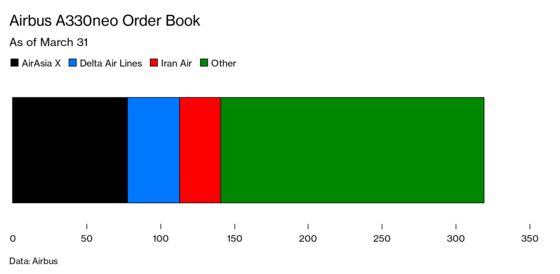 Fernandes told Bloomberg Television that Airbus remains "very much our partner." Still, the coronavirus-induced implosion in traffic—especially on long-haul routes where the competition was already tough—has made the neo deal look increasingly unrealistic. AirAsia X announced in late February it will defer deliveries for 78 A330neos, without saying how long the delay would last.
"It's hard to be talking about new aircraft right now when demand is what it is," Fernandes said, noting that his company doesn't plan to switch to another aircraft. "I don't think growth will come back for a while, so I don't see many airlines taking new planes." —With Siddharth Philip, Will Davies, Yvonne Man, and Haslinda Amin
 
Read more: Watching My Family Confront Coronavirus on Two Continents