Weakened Tropical Depression Fred Will Soak Florida Friday
(Bloomberg) -- Tropical Storm Fred has been downgraded to a tropical depression but is expected to gain strength as it starts to drench Florida on Friday. A storm watch is now in place for the Keys, the islands at the state's southern tip.
The storm was about 470 miles (756 kilometers) east-southeast of Key West at 5 p.m. local time, with sustained winds of 35 miles per hour, according to the National Hurricane Center. From Friday through Monday, parts of Florida and the Southeast may get as much as 8 inches (20 centimeters) of rain, potentially triggering floods in the area.
The sixth named Atlantic storm of the year will probably get stronger as it passes over warm ocean waters. It would be upgraded again to a tropical storm if the wind speeds increase to 39 miles per hour.
"Slow strengthening is expected Friday through Saturday, and Fred is forecast to regain tropical storm strength as it nears the Florida Keys and south Florida," the Hurricane Center said in an advisory.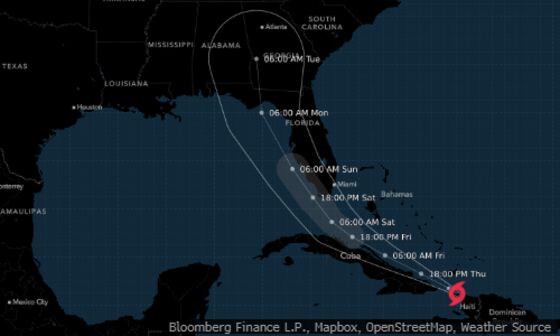 Fred's track should take it up Florida's west coast, making landfall on either Sunday night or Monday, according to Maxar. Its path is similar to Elsa, which made landfall on the state's northern Gulf Coast in early July after it was downgraded to a tropical storm from a hurricane.
Forecasters are expecting an active hurricane season, with as many as 21 storms. While Elsa, the most recent Atlantic storm, rolled through more than a month ago, the period from August to October is typically busier than earlier months.
While it's unlikely to become strong enough to reach hurricane status, Fred will definitely dump rain on Florida, according to Anthony Chipriano, a senior meteorologist with Maxar.
"It will be a decent soaker," he said. "It will impact all of Florida."