Treasury Futures Positions Reach New Extremes Before Election
(Bloomberg) -- Positioning in futures linked to longer-dated Treasuries has reached extreme levels in the run-up to the U.S. election on Nov. 3.
The long position that asset managers have built in the Treasury bond future -- a contract that's tied to debt maturing in 15-to-25 years -- has increased to be the largest on record, according to Commodity Futures Trading Commission data for the period through Oct. 13. Meanwhile leveraged funds had the biggest-ever net short. Open interest in the product -- the number of contracts in which all users had positions -- stood at 1.2 million, short of its February high but above the highest level on record until then.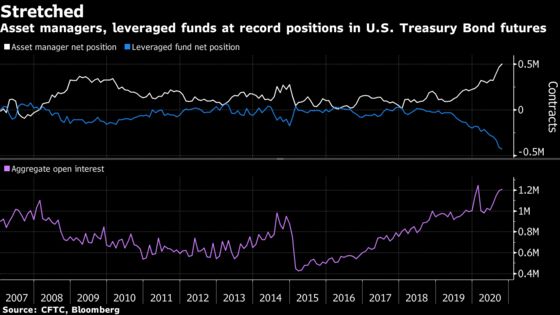 The positions are set to be tested. Many investors expect that a Democratic sweep of the White House and both houses of Congress would pave the way for a hefty fiscal spending package that could move Treasury yields higher and the curve steeper. That would reward the leveraged funds, whose position is considered speculative, at the expense of the asset managers that use futures to hedge holdings of the underlying assets.