Treasuries Tick Higher After Internet Outage Spooks Markets
(Bloomberg) -- U.S. Treasuries led bonds higher worldwide after outages across several global websites spurred demand for haven assets.
Ten-year Treasury yields fell as much as six basis points to 1.51%, the lowest level in over a month, before paring the drop. Websites including the New York Times, Bloomberg News and Reddit were unavailable after services from content-delivery network Fastly Inc. went down on Tuesday.
Other markets followed the move, with German and U.K. bonds rallying. Fastly blamed a service configuration and said its network was coming back online.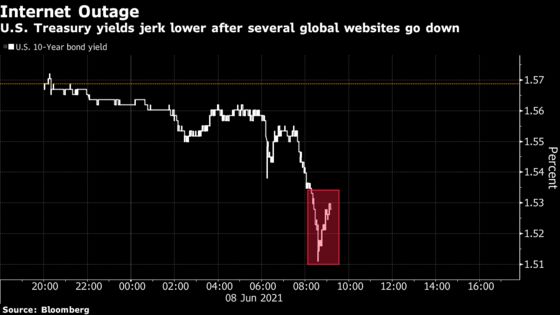 "It seems to be being blamed on tech issues rather than a cyber attack," said Patrick O'Donnell, a money manager at Aberdeen Standard Investments. "Either way, U.S. fixed income had been trading quite well anyway and I imagine that'll continue."
The latest move higher comes with Treasuries already benefiting from a supportive backdrop. Investors are awaiting key inflation data Thursday, which could help determine when the Federal Reserve will start rolling back its bond purchases. Weaker-than-expected Jobs data on Friday as well as more cautious comments from Fed officials has boosted bets that the central bank will hold off for now. The institution has said repeatedly that it expects recent inflationary pressures to be transitory.
Still, it comes amid a heavy supply backdrop, with the Treasury selling $58 billion of three-year securities later Tuesday, $38 billion of 10-year bonds Wednesday and $24 billion of 30-year notes Thursday.
"Treasuries still look attractive in the global context; that can help explain where U.S. rates currently are," wrote ING strategists led by Antoine Bouvet. There's a "huge amount of excess reserves flushing the market."