New York Faces 'Really Tough' Commute as Snow Drags Into Night
(Bloomberg) -- New Yorkers face a slushy commute home as the first winter storm of the season dumps up to 4 inches (10 centimeters) of snow in Manhattan.
Wet, sloppy flakes were falling in Central Park at midday, turning sidewalks and roads slick. The storm is expected to last into evening, dumping snow until early Tuesday.
"That's going to make the evening commute really tough," Mayor Bill de Blasio said in a statement.
The city will dispatch more than 700 trucks to spread sand onto streets and have 1,500 plows standing by in case snow piles up. It will be worse upstate, where as much as 17 inches could fall in Albany. New York Governor Andrew Cuomo declared a state of emergency in seven upstate counties.
In New Jersey, Governor Phil Murphy closed state offices in anticipation of as much as 12 inches of snow. Commercial traffic is banned on sections of interstates 78, 80 and 287. Speed restrictions are in effect for parts of the Garden State Parkway and the New Jersey Turnpike.
"For those who ventured to work, if you can leave early, please consider doing so," Murphy said at a news conference.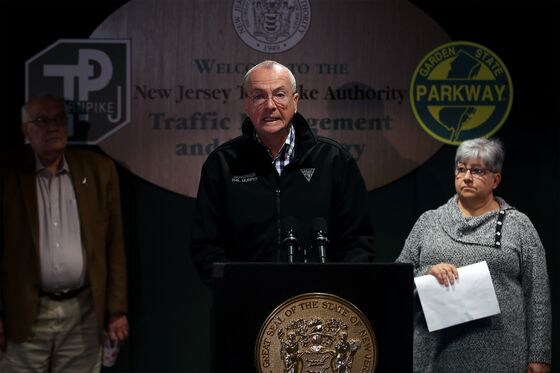 The storm has knocked out power to at least 60,000 homes and businesses from Michigan to New York, according to utility websites. Demand for electricity in New York was exceeding forecasts despite the outages, pushing wholesale power prices in the city to their highest since June.
The storm has caused mayhem across the U.S. since it began last week in California, arriving as an estimated 55 million people took to the roads, rails and air for the U.S. Thanksgiving holiday. Nearly 600 flights were canceled around the U.S. Monday, and another 3,300 were delayed, according to FlightAware, an airline tracking service.
As the storm moved off the East Coast, a second one developed southeast of Long Island, packing more punch for New York and southern New England, said Gary Best, a Bloomberg Radio meteorologist with Hometown Forecast Services.
Boston, where it was raining Monday afternoon, could get 7 inches. North-central Massachusetts could get as much as 12.
"After this goes by, it looks pretty quiet and warming up a bit as well," Best said.