Egypt Vows to Punish Negligence as Cairo Train Crash Kills 20
(Bloomberg) -- Egypt's prime minister vowed swift accountability and an end to the "age of ignoring negligence," as the death toll from the capital's worst train crash in years reached at least 20.
Prime Minister Mostafa Madbouly spoke as authorities launched an investigation into what caused the train to collide with the barrier at the end of the track in downtown Cairo's Ramsis station. Egypt's Public Prosecutor Nabil Sadeq said at least 28 people were injured.
Those responsible for the incident will be held accountable to prevent accidents in the future, Madbouly said in a statement. The premier cut short a cabinet meeting to visit the site, and said President Abdel Fattah El-Sisi was following developments.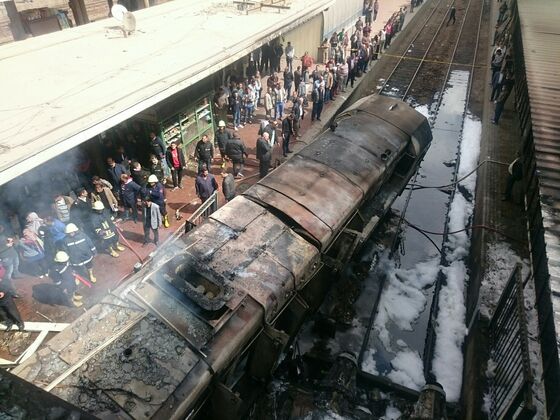 Deadly train crashes are commonplace in Egypt, with officials attributing them to a combination of aging infrastructure and negligence. The government is working to upgrade the railway system, including buying hundreds of new locomotive and carriages, as well as expanding the current metro system and building a monorail.
The accident, however, threatened to unleash a new barrage of criticism at a time when officials are pushing ahead with a broad program to revive the economy that has left the country's poorest people struggling with sharply higher prices.
Television and social media footage showed images of burned corpses at the station. The train's charred engine appeared to have derailed.
In August 2017, two trains collided near the Mediterranean city of Alexandria, killing at least 40 people and wounding over 130 others. Four years earlier, a train accident on the outskirts of Cairo heaped additional pressure on the country's soon-to-be ousted Islamist president, Mohamed Mursi.