Trailblazing Rate Hikes Herald End of an Era for Czech Bonds
(Bloomberg) -- After bingeing on short-term bonds with negative yields, the Czech government is betting the fastest run of rate hikes in Europe will lure investors to its longer debt.
While the Czech Republic's finances are among the healthiest on the continent, it faces record repayments this year and next after concentrating on sales of two- and three-year notes in 2015 to 2017. With bond rates now solidly positive, Finance Minister Alena Schillerova says she'll be aiming to push out maturities and lock in still-favorable borrowing costs as she refinances the debt pile coming due.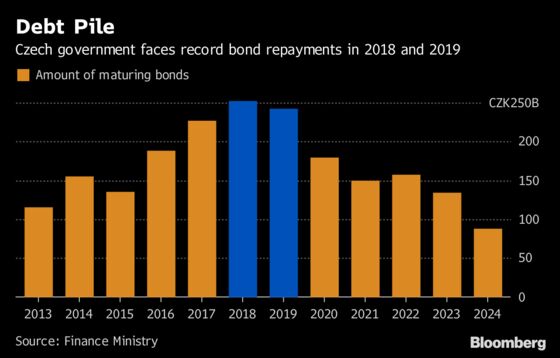 "With a virtually balanced budget, the current increased level of maturing debt is no disaster and we can easily roll it over," she said in an interview at her office in Prague on Friday. "Going forward, we'll be borrowing for the longer term -- that's a clear trend now."
Schillerova is recalibrating her debt strategy after the Czech central bank delivered six rate hikes since last August, outstripping the rest of Europe, as consumer-price growth accelerated. The quick-fire increases have affected shorter bonds more than longer ones, flattening the curve and more than halving the extra yield investors demand to hold 10-year notes compared with three-year debt this year.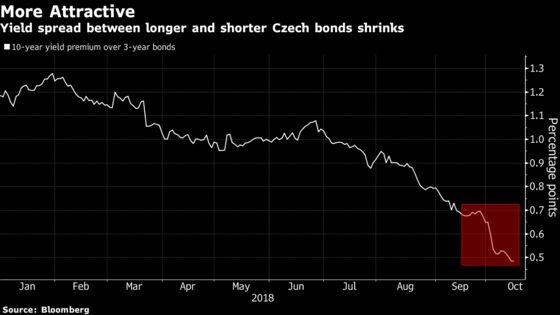 The three-year bond rate was at 1.70 percent in Prague on Tuesday, up from 0.41 percent a year ago and minus 0.61 percent two years ago. The premium over similar-maturity German bunds is now 212 basis points, the most in almost a decade.
The jump in yields has made the ex-communist nation's local-currency sovereign securities more attractive for both domestic and foreign investors starved of returns after years of ultra-cheap money across Europe. Czech bonds now return more than those in lower-rated Spain and Portugal, though the government still pays less than the inflation rate on all maturities up to 15 years.
For Schillerova, conditions on the Czech market are so favorable she isn't actively considering foreign-currency funding. She said the government also won't need a 100 billion-koruna ($4.5 billion) credit line from the European Investment Bank that was proposed by the Transport Minister to fund road projects, and may only borrow about 11.5 billion koruna from the lender.
"We may be able to borrow the rest in the domestic bond market for less," the minister said. "With the current strong demand for our local-currency bonds and no Eurobond maturities until 2020, we feel no need to tap foreign markets at the moment."