Traders Hedge Against Zero Fed Rate as Talk of Crisis Cut Swirls
(Bloomberg) -- Money-market traders are starting to bet on the idea that the spreading coronavirus will prompt swift and deep interest-rate cuts from the Federal Reserve, and potentially even an emergency meeting.
Some participants in the eurodollar options market have begun hedging against the idea that the central bank benchmark could plummet to zero -- around 1.5 percentage points below the current target -- as soon as June.
That is not the market's base case, but bets on cuts coming sooner and faster than previously expected have certainly amped up this week as stocks have cratered. A full-quarter point cut is now priced into fed funds futures for as soon as March, while contracts are showing the equivalent of three-to-four such reductions by the end of 2020.
"An emergency cut is clearly a growing possibility for a number of reasons -- from the hit to sentiment, to the lower oil price, moves in equity markets, risks to the global supply chain etc.," said John Wraith, a rates strategist at UBS Group AG in London. "Unlike most other central banks, they have some room for maneuver."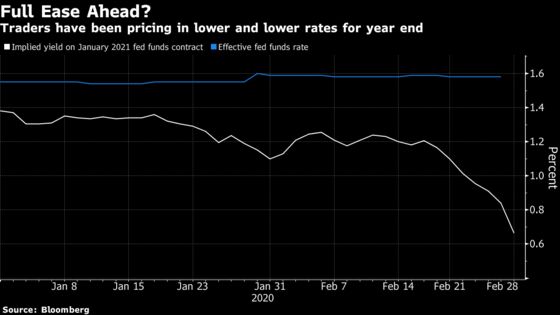 The last time the Fed cut rates out of its regular meeting schedule was during the 2008 crisis. The next Federal Open Market Committee meeting is calendared for March 17 and 18.
Fed Bank of St. Louis President James Bullard, who doesn't vote on monetary policy this year, said on Friday that it was not his sense that an emergency meeting was appropriate. He said he would back interest-rate reductions if the coronavirus develops into a worldwide pandemic, but said last year's cuts are already supporting the U.S. economy.
The three-month London interbank offered rate -- a benchmark for trillions of dollars in financial products globally -- followed other short-term rates lower Friday, plunging by 11.8 basis points to 1.46275%. the largest one-day fall since the 2008 financial crisis. Yields at the longer-end of the Treasuries curve have also plumbed new lows this week.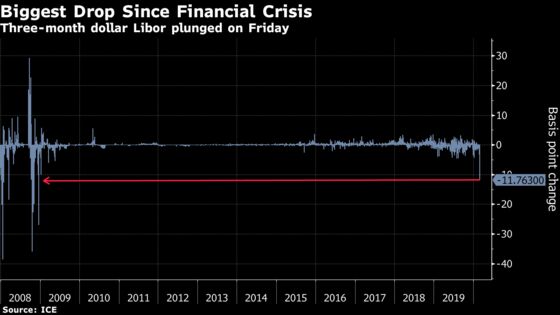 Bets on policy action follow a week of market turmoil in the face of the coronavirus spreading globally to near pandemic proportions. Investors are worried that a slowdown in China -- and now other parts of the world as factories are closed -- will weigh on growth.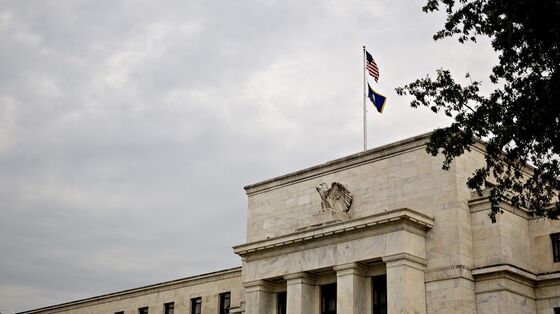 While traders expect the Fed could end up cutting rates at least three times this year, they are also pricing in more than 25 basis points of easing by the Bank of England in May and over 10 basis points by the European Central Bank in July.
Instead of an emergency cut, the Fed could choose to slash rates by 50 basis points at its March 18 announcement, according to Standard Chartered.
"Now it's very much in 'where's next' mode," said John Davies, a U.S. interest-rate strategist at Standard Chartered. "Is the market sensible to be pricing in some possibility of such an emergency cut -- well, yes."