Traders Smack the Bids on 'Full-Blown' Trade Fears: Taking Stock
(Bloomberg) -- Stocks are pulling back -- S&P futures down ~11 points, Europe's Stoxx 600 is off ~0.7%, Asia markets declined (recall China is closed for the week) -- on a slew of negative trade headlines, starting with yesterday afternoon's call from JPMorgan for a "full-blown trade war" (more on this note's impact below) and followed by these events:
Pence is expected to lay out allegations of Chinese election-meddling in an 11am speech at the Hudson Institute later today
A CNN report about the U.S. proposing a "major show of force" to warn China
Jack Ma's comments that the U.S.-China trade war could last 20 years, and then this: "When trade stops, sometimes the war starts. So trade is the way to stop wars."
Our scoop on a hack from China that infiltrated several top U.S. companies
Add in the unease over Treasuries selling off and rates ripping again, with the 10-year topping 3.23% at one point this morning versus hovering at ~3.05% Wednesday morning and the prior two days. And the Kavanaugh test vote is set for Friday after the FBI report was received by the Senate -- PredictIt odds of being next SCOTUS justice has now climbed to 74c yes, where it was 66c earlier this week.
About Yesterday's Sell-Off
The reason for yesterday afternoon's 16-handle pullback on the S&P 500, depending on which trader you spoke to, was either "rates" or "a massive sell program."
It's true that 10-year yields surged to their highest since 2011, but the rip to ~3.17% was already in by the time stocks rolled over -- yields amazingly seemed to climb 1-2 bps every hour that the market was open. It's also true that we've seen late-day selling every day this week so far; I'd point everyone to this prescient post titled "Watch Out for Final-Hour Selling in Stocks" from our lead Markets Live blogger Mike Regan, who wrote this an hour before the S&P 500 fell out of bed.
But aside from the two reasons mentioned above, I'd also highlight a note out of JPMorgan's emerging markets equities crew that hit at ~2pm, or just before things got real. Their strategists downgraded China to a neutral, but the kicker was the call that their base case scenario for 2019 is now a "full-blown trade war" that includes tariffs on all >$500 billion of imports from China (this followed a separate report last week from JPMorgan that warned on the trade situation).
While it might seem like a stretch to connect an emerging markets sell-side call to the spillage in the SPX, the timing is a little too perfect and the headline a bit too alarming not to at least mention it. I mean, no one wants full-blown anything, much less when it relates to a worsening trade situation with China. And the aforementioned worrisome headlines that have hit the tape since the close go to show that the situation doesn't appear headed in the right direction.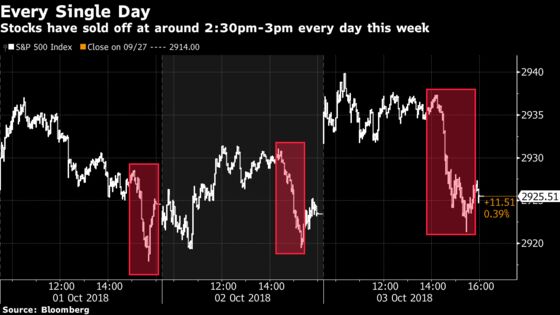 Watch for weakness in the Dow constituents that tend to act poorly when things sour on the U.S.-China trade war front, namely Caterpillar, Boeing and 3M; the semis may also be weak on the trade headlines in addition to more negative sentiment from the sell side (more on this below)
Any sectors that trade in lockstep with rates given the persistent climb (see the next section for more on the rotation into banks and out of utilities)
Pot stocks, especially the CBD drink names like Alkaline Water and DavidsTea (even though the CEO already said he isn't looking to do pot collaborations yet), ahead of Constellation Brands earnings (given their C$5 billion deal with Canopy Growth, which just notched its best one-day performance in a month) and New Age Beverages's 11am presentation at the B. Riley FBR conference
Big data analytics and cloud software companies the Hortonworks/Cloudera deal
Grocers and mass merchants ahead of Costco earnings tonight
A Chance to Get Burned Again
The dramatic move in the 10-year helped lift the BKX by 1.5%, which really isn't all too impressive considering bigger gains in the index at other points this year (BKX has risen at least 1.5% almost 20 times already in 2018) and the recent underperformance in the group (the index fell 5.2% in the eight sessions prior to Wednesday).
You'd think that investors would rush into the bank stocks now that the 10-year has established some ground well above the closely watched 3.00% level and cleanly broke through its 52-week high.
But perhaps the longs and the cherry pickers have been burned one too many times by the false hope of a breakout tied directly to yields, like last Tuesday when a modest rally on the back of the 10-year striking 3.11% fizzled out almost immediately off the open -- I'll call myself out for this not-exactly-prophetic Taking Stock title that morning: "Stars Are Aligning to Buy Banks and Sell Utilities" (ouch!)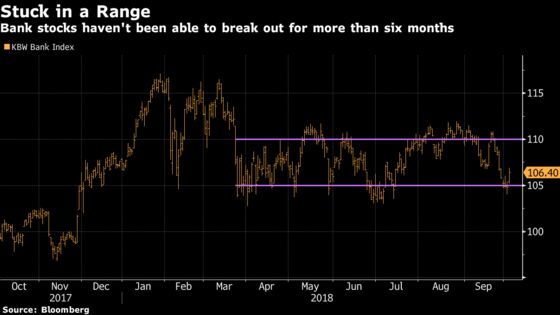 Perhaps Wall Street wants to wait and hear from Jamie Dimon, Brian Moynihan, and Mike Corbat when the big banks all report in the next week and a half. Maybe that will be the spark that gets the BKX out of this going-nowhere rut that its been in for the past six and a half months.
Or maybe the upside swing in yields is lagging expectations (people have been talking 3.5%, 4%, and higher for a long time now), so maybe we need to see levels closer to the first two marks before anything can get going. Or we might just need to see a true rotation out of the yield-sensitive sectors, like the utilities, REITs, and the consumer staples, for money to be properly put to work in the financials.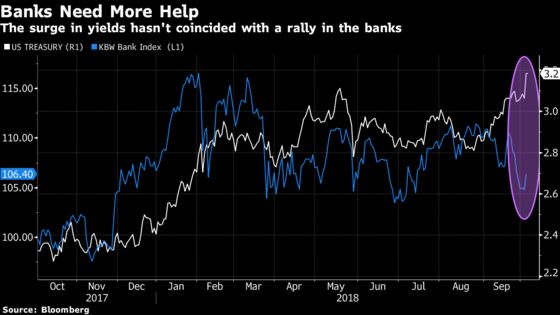 Notes From the Sell Side
Deutsche Bank's Ross Seymore is cutting estimates on the semiconductors a day after Morgan Stanley sounded the alarm on the space again and took a knife to their models. Seymore cites macro uncertainties coupled with slowing data points across the supply chain, specifically in the industrial and automotive markets.
Goldman cuts its rating on AMC Networks to a sell on weakness in National Networks advertising (34% of 2017 revenue) and margin pressures from slowing growth and higher costs. The firm is separately removing buy-rated Arista Networks from its conviction list due to a multiple catalysts having played out.
Keybanc's initial round of carrier surveys indicates solid sell-through for Apple's iPhone XS/Max, citing lean inventories post-launch. The analyst's favorite supply chain names are Broadcom, Qorvo, Skyworks, and Synaptics.
Morgan Stanley makes the case that Walmart has strong odds of rising more than 3% after its October 16 investor day, which is one of the most anticipated events for retail investors this year. Base case scenario is the company setting 2020 targets of 5% EPS growth driven by ~2% EBIT growth and share buybacks representing the balance.
Tick-by-Tick Guide to Today's Actionable Events
7:00am -- SRPT webcast on data from microdystrophin gene therapy trial
7:30am -- STZ, ISCA earnings
8:00am -- Kudlow at Economic Club of Washington event
8:00am -- ARNA R&D day
8:30am -- Initial Jobless Claims
9:00am -- Mnuchin addresses Financial Literary and Education Commission
9:00am -- JEF, CCOI investor days
9:15am -- Fed's Quarles at community banking conference
9:30am -- IPOs start trading post-open: Guardant Health (GH), Kodiak Sciences (KOD)
9:30am -- KRNT investor day
9:45am -- Bloomberg Consumer Comfort
10:00am -- Factory Orders, Durable Goods
10:00am -- CP investor day (day two of two)
10:30am -- EIA natgas storage
10:30am -- STZ earnings call
11:00am -- Pence speech on China policy at Hudson Institute
11:00am -- NBEV at B. Riley FBR consumer and media conference
12:00pm -- RIGL investor day
12:30pm -- LNG at Wolfe Research utilities and energy conference
2:30pm -- WTW at B. Riley FBR consumer and media conference
4:05pm -- SGH earnings
4:15pm -- COST earnings
5:00pm -- COST earnings call
7:30pm -- Trump hosts MAGA rally in Rochester, Minn.
8:20pm -- Colts at Patriots (-10)
Tonight -- IPO scheduled to price: Elastic (ESTC)