Traders Unwind Rate-Hike Bets as New Covid Fears Spread
(Bloomberg) -- Benchmark Treasury yields were on track for the biggest drop since the early months of the pandemic and money markets offloaded bets on central bank interest-rate hikes amid concerns that a new coronavirus strain may spread globally and slow economic growth.
Money-markets pushed back the timing of a first 25-basis-point rate increase by the Federal Reserve to September from June, while briefly pricing out any more hikes unit 2023. The 10-year yield fell as much as 14 basis points, the biggest drop since March 2020 on a closing basis.
It's a similar story in the U.K. where the Bank of England is now expected to tighten policy in February instead of next month. Wagers that the European Central Bank will raise its deposit rate by the end of next year were also slashed, with only a five basis-point increase priced in, around half of what was seen earlier this week.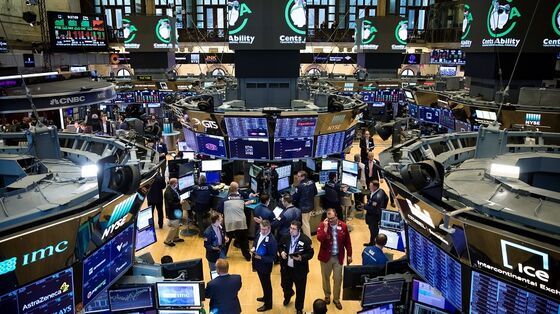 The shift comes as countries including the U.K. and Israel curbed travel from South Africa and some neighboring nations after a new Covid-19 strain was identified there. European Commission President Ursula von der Leyen said that air travel from southern Africa should be suspended "until we have a clearer understanding of the dangers posed" by the variant.
"Over the next couple of weeks we could see this move continuing," said Pooja Kumra, senior European rates strategist at Toronto-Dominion Bank, in an interview on Bloomberg Television. "Right now we would expect central banks to remain more sympathetic to the situation before removing any accommodation."
The prospect of widespread travel restrictions and renewed curbs to social activity mean policy makers have to think twice before starting to pull back on support, wrong-footing traders positioned for rate increases. On Thursday, Goldman Sachs Group Inc. predicted the Fed would wind down its asset purchase program at an increased pace and raise rates three times next year, beginning in June.
For months, central banks have been priming the market for an era of tighter monetary policy as the global economy emerged from the pandemic and inflation accelerated. The bond rally on Friday comes after two- and five-year Treasury yields climbed to their their highest levels since the onset of the pandemic earlier this week, with poor liquidity following a national holiday amplifying the moves.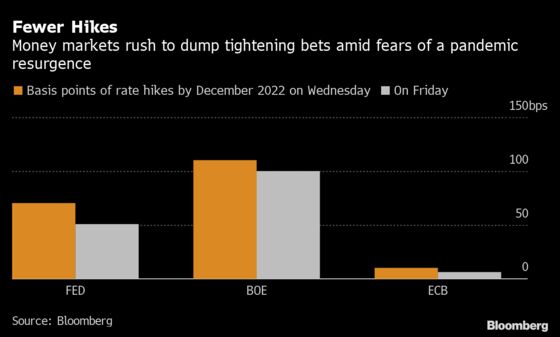 The World Health Organization and scientists are studying the recently identified variant, which has been described as very different to previous versions and of serious concern. Researchers are still trying to determine whether it is more transmissible or more lethal than previous strains.
If the new strain turns out to be as potent as it seems, it "will negate the need for monetary tightening that most developed market central banks were leaning towards," said Peter Chatwell, multi-asset strategist at Mizuho International Plc. He expects central banks to push back interest-rate hikes by about six months in this instance. 
Five-year government bond yields, which are most sensitive to monetary policy, led declines in the U.S. and U.K., falling as much as 18 basis points to 1.16% and 14 basis points to 0.60%, respectively. Market-implied U.S. inflation expectations slumped, with the breakeven rate for five-year Treasury inflation-protected securities falling 13 basis points to 2.93%, the lowest level since Nov. 5.
Traders are also pushing back bets for monetary tightening in central and eastern Europe, among the first regions to react to a spike in prices with interest-rate increases this year. Forward-rate agreements over the next 12 months in Hungary, Poland and the Czech Republic tumbled more than 20 basis points.