Traders Flee From Treasuries in One of Biggest 2020 Yield Spikes
(Bloomberg) -- Investors dumped Treasuries amid a glimmer of hope that the U.S. Congress will reach an economic-stimulus compromise, driving one of the year's biggest increases in long-term yields.
Bonds sank as investors shifted to riskier assets like stocks, encouraged by the prospect that help is coming for the U.S. economy. Rates on 30-year Treasuries spiked as high as 1.683% on Tuesday, rising 10 basis points. Yields on 10-year notes jumped to 0.94%, the highest since Nov. 12.
In a further sign that investors are warming to the idea that the economy could rebound, the 10-year breakeven rate -- a proxy for expected inflation derived from Treasury prices -- touched 1.83%, a level last seen in May 2019.
After efforts to prop up the virus-ravaged U.S. economy stalled for months, a group of Democratic and Republican lawmakers revealed a $908 billion stimulus proposal Tuesday. While getting it approved is far from assured, the news fell on fertile ground as promising Covid-19 vaccine news has already driven a shift from bonds into stocks as the Dow Jones Industrial Average sees its best month since 1987 in November.
"Treasury yields are playing catch-up with the enthusiasm in the rest of the market, and it appears the impetus for additional fiscal spending is the catalyst for rising rates," said Charles Ripley, an Allianz Investment Management strategist who is based near Minneapolis.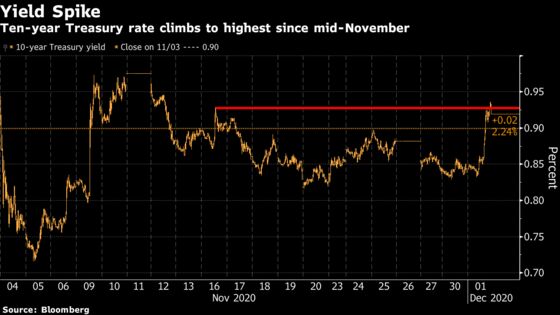 Bonds were resilient last week with prices holding up as investors waited on the largest month-end index extension since 2009 -- matching what was seen in August -- which typically results in purchases. With this anticipated calendar support removed, prices dropped.
Yields on 10-year notes jumped as much as 9.7 basis points on Tuesday, good for one of the largest moves of 2020, though much smaller than the spikes seen in March as the gravity of the pandemic sunk in. The move spilled over to benchmarks in Asia as 10-year yields in Australia and New Zealand climbed five to seven basis points.
The shift in sentiment Tuesday also drove down the dollar. Against the euro, the U.S. currency hit the weakest level since May 2018.
Hedge funds and other leveraged investors may have been caught flat-footed by Tuesday's move. In the week that ended Nov. 24, they'd slashed short bets against long-term Treasuries by the most since the first quarter, according to U.S. Commodity Futures Trading Commission data released Monday.