Traders Really Dig China Oil Futures But Aren't Ready to Commit
(Bloomberg) -- China's new oil futures are a hit with investors but they're facing commitment issues.
While daily volume in the yuan-denominated contract has increased five-fold since its debut in late-March amid steady growth in open interest, almost all trading is focused in front-month, September futures.
For Nymex's West Texas Intermediate and Brent on ICE Futures Europe -- the global crude benchmarks that China wants its futures to rival one day -- at least half of volume and open interest is in longer-dated contracts.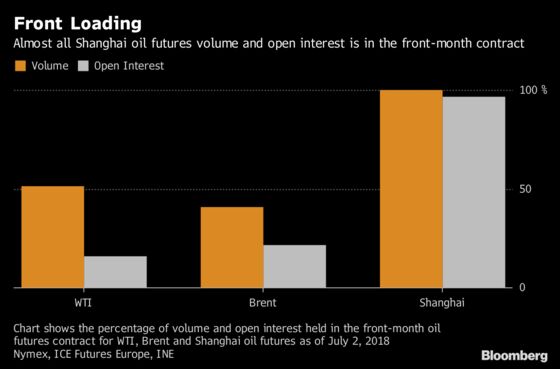 It suggests that, for now, traders are using the futures principally to speculate on short-term price fluctuations, as opposed to hedge long-term consumption or production, according to Jia Zheng, a portfolio manager at Shanghai Minghong Investment Co.
For the longevity and feasibility of the contract as a pricing and risk management tool, however, the Shanghai International Energy Exchange will need them to start rolling contracts and trading further forward.
The exchange is conscious of the front-heavy trading and wants to encourage more liquidity further down the curve, people with knowledge of the matter told Bloomberg this week. On Wednesday it cut trading fees for the October and November contracts.
"Now that the exchange lowered the trading fees, hopefully we could see some retail investors attracted back in and some institutional players could smoothly move the contract forward at a lower cost," Bruce Xue, an analyst with Haitong Securities, said by phone.