Traders Get Temporary Lyft But Need an Uber Rally: Taking Stock
(Bloomberg) -- Tuesday was nothing to write home about.
Bulls were likely encouraged that the bottom didn't continue to fall out, but we can call a spade a spade. It was a relief rally whereby the highs barely sniffed Friday's lows. So it's a bit early to breathe a sign of relief on trade concerns, despite some of the valuation signals that may be flashing buy. Every sector (save utilities) ended in the green, but it's safe to say the day turned out quite a bit different for those who sold with about an hour left to go in the session. Probably a wise bet given the potential for trade spat vitriol to emerge at any given time overnight.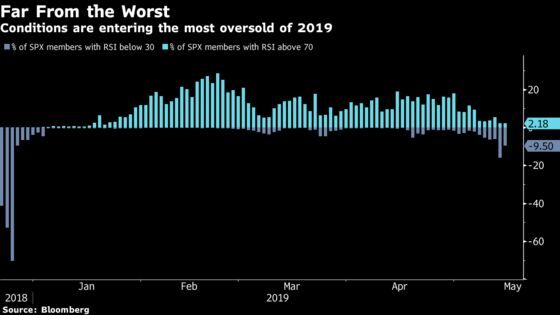 Fascinatingly, the market has largely ignored the unrest in the Middle East (some reports indicate the U.S. was prepping ground forces/air strikes for Iran), instead opting for a laser focus on trade. Credit Suisse strategists wrote earlier this week that a "complacency" still exists within the market that the trade issue won't escalate (likely accounting for the fact that we didn't continue to crater yesterday) -- analysts there put a 70% chance of a compromise (which would signal a buy) and 15% chance of a "full escalation on a permanent basis."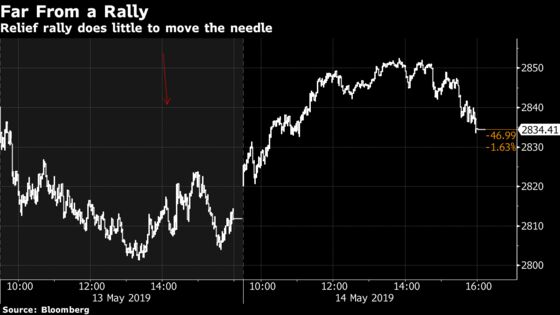 Fifteen percent isn't insignificant, and Bernstein portfolio strategists led by Noah Weisberger estimated that a permanent tariff increase was worth $4-$8 impact to forward EPS estimates and a contracting multiple given slower EPS growth. With the impact, EPS for the S&P would be estimated at $172 for 2020 (vs $170 for 2019) -- pretty slim pickings.
Futures are about flat this morning, in more of a wait-and-see mode as Europe trades substantively lower while Asian markets surged as weaker Chinese data led some to speculate that further stimulus was on the way in the region.
As far as the U.S. impact from both slowing growth and the trade war, we'll only get small tastes with Macy's and Cisco results later today. The tech mega-cap boasts sales of less than 5% emanating from the region. Citi analysts expect any retaliation from the trade issues to be limited, and are instead worried about the "contentious" set-up for a stock that has already outperformed the S&P by a healthy margin (25% to 15%). The retailer, however, may provide deeper insight as many of the brands it carries rely on production in China.
13F-HR filing season is upon us, whereby conclusions will be drawn fast and loose on the goings-on in the hedge fund industry during a quarter that ended ~45 days ago. As usual, key names like Berkshire and Appaloosa will be closely watched for trends (though spoiler alert: the Oracle already showed some of his hand in the Amazon.com stake discussion earlier this month).
In the prior quarter's digest of holdings, investors were shown have to have fled tech during the massive selloff, and in turn, we'll see if one of the best first quarters in the SPX in years wooed some of them back (surely they did, as tech was the leading sector, followed, interestingly enough, by real estate and industrials). Apple and Microsoft were some of the worst casualties in the prior quarter, only to roar back -- the latter hitting $1 trillion in market value not so long ago.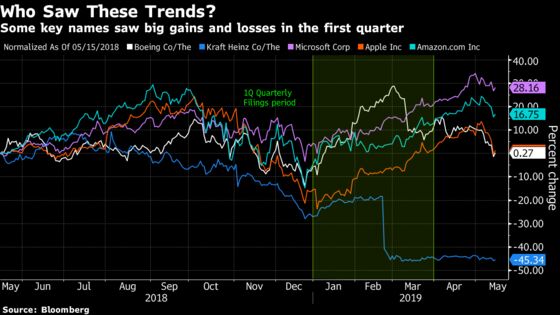 Two American stalwarts of industry, Boeing and Kraft Heinz, will be front and center after suffering serious mismanagement incidents in the quarter. The latter was the worst performer in the S&P 500 during 1Q, which I'm sure should have attracted some value nibblers. Then there's Coty, the S&P's best performer during the quarter, which now counts JAB Investments as its larger holder, but only since last month, according to data compiled by Bloomberg. Arista Networks was the fourth-best performer in the quarter, only to catch some flat-footed with poor results less than two weeks ago (shares fell the most in 15 months).
"Lucky" timing will also be in display as we keep an eye out for any investors who may have taken large stakes in Anadarko. Granted, there is the chance they may have divested ahead of the deal in mid-April, but the types of players involved will also be interesting.
And it's not all macro trends to consider. In light of the hyper focus on mega-IPOs in recent weeks, we may also gain insight into some of the winners and losers from the prior crop, as my colleague Drew Singer explains:
Wednesday's disclosures will provide a first look at who jumped into Lyft Inc. during its first-day surge. Lyft shares traded as much as 23% above the IPO price in their debut session, the final day of the quarter, before tumbling below the listing price one day later. Beyond Lyft, funds had some interesting -- albeit smaller -- names to choose from. Levi Strauss & Co. has risen nearly 30 percent above its IPO price, while the year's only energy IPO, New Fortress Energy LLC, is floundering more than 20 percent below its debut level.
Thanks to the impact of the government shutdown, the first quarter provided a slimmer crop of IPOs than usual. The filings will show if anyone had the foresight to jump into the quarter's under-the-radar breakouts, like Sectoral's addition of Shockwave Medical Inc., which hit a record on Monday at 235% above its IPO price. Shockwave peer Soliton Inc. is the only other first quarter IPO trading at more than double its listing price.
Hedge funds also faced some tough decisions on which former IPOs to sell. For example, Stoneco Ltd. skyrocketed by 123% in the first quarter, after funds disclosed purchases of nearly 30 million shares at the end of 2018. Anaplan Inc. jumped 48% after funds nabbed more than 15 million shares. Similar opportunities to collect on a price runup existed in recent IPOs like Eventbrite Inc., Moderna Inc. and Tencent Music Entertainment.
Life Sciences companies (PKI, DHR, BRKR, TMO) as Agilent results disappointed. Cowen called it a "surprisingly tough" April though many "pillars' of their thesis for their outperform, though the PT was trimmed to $80 from $90. TMO is the "best/safest" place to be in the segment, analysts wrote
Marijuana names after Tilray results, which attracted a BMO upgrade (watch ACB, CRON, CGC)
IPOs remain in focus as UBER continues to drive the bus. Lyft and Uber benefited from the relief rally, with many other IPOs outperforming, including ZM, PINS and BYND
Brazil payments companies, one day after StoneCo allayed price war fears --Pagseguro dropped 10% after its own results post-market
Retailers ahead of Macy's results. Ralph Lauren missed and discussed the prospects of how they could be negatively impacted by the trade war
Networking peers ahead of Cisco results. ANET cratered in its recent results, watch JNPR, FFIV
Asia-exposed stocks (AMD, NVDA, BA, WYNN, DE, CAT, KLAC, LVS, AVGO, NKE, AAPL) after trade tariffs continue to be front and center
ShotSpotter's recent earnings-driven sell-off was seen as an opportunity at Imperial Capital, which upgraded the security-products company to outperform. Analyst Jeff Kessler wrote that he remained "relatively positive on the company's growth and profitability outlook," as well as a recent software acquisition, which he wrote would "likely" have better margins than core ShotSpotter. He added that the company's "dominant position" suggested that "it could eventually be an attractive acquisition candidate."
While Alphabet disappointed with its first-quarter print in late April, analysts were positive on the company's recently announced ad products. Deutsche Bank called it a "blockbuster pipeline" and said it made the firm "meaningfully more confident in the 2020 outlook" of Google's parent company. It boosted its target by $100. Separately, Susquehanna Financial Group wrote it was "incrementally more confident in the company's ability to drive continued strong ad revenue growth," and that it still had "meaningful headroom left" for further ad optimization.
Bluebird Bio was downgraded to neutral at Wedbush, which also cut its price target to $131 from $166 in the wake of the company's analyst day meeting. "We see risks to the ZYNTEGLO (LentiGlobin) launch that could overshadow the company's broad pipeline," the firm wrote. While that pipeline is "impressively broad" and a source for future value, it is "unlikely to 'move the needle' in the near-term." Analyst David Nierengarten added that the shares "have more limited upside" at current levels, barring an acquisition.
Tick-By-Tick to Today's Actionable Events
BofAML health care conference (AMGN, REGN, BSX, CNC)
Quarterly hedge fund filings 13-F HRs
American Society of Clinical Oncology posts non-late breaking abstracts for annual meeting at 5pm; see Bloomberg Intelligence preview
BMO's Farm to Market conference (CORE, MOS, SYY, INGR)
Beyond Meat estimated earnings date
6:45am -- BABA earnings
7:00am -- Weekly MBA Mortgage Applications
7:30am -- BABA earnings call
8:00am -- M earnings
8:30am -- May Empire Manufacturing; April Retail Sales
9:15am -- April Industrial Production; April Capacity Utilization
9:30am -- M earnings call
9:45am -- TSCO investment community meeting
10:00am -- May NAHB Housing Market Index; Mar Business Inventories
12:00pm -- Fed's Barkin speaks to Economists in New York
2:00pm -- House Financial Services Sub-cmte hearing "Assessing the Use of Sanctions in Addressing National Security and Foreign Policy Challenges"
4:00pm -- March Long-Term TIC Flows, Total Net TIC Flows
4:05pm -- CSCO earnings
4:30pm -- CSCO earnings call