Traders Dial Back Inflation Fears as Bets Mount on Hawkish Fed
(Bloomberg) -- Bond traders reduced their U.S. inflation expectations for a fifth-straight day as the U.S. president's decision to renominate Jerome Powell as head of the Federal Reserve helped reinforce expectations that the central bank will act more sternly to stem consumer-price gains.
Market-implied forecasts for inflation have fallen back from record highs set earlier this month and traders have upped their pricing of tighter policy next year as officials including Richard Clarida have signaled that the Fed might increase the pace at which it tapers its bond purchases. U.S. headline inflation, fueled in large part by supply-chain disruptions and policy stimulus, last month leaped to 6.2% year-on-year, the fastest pace in three decades.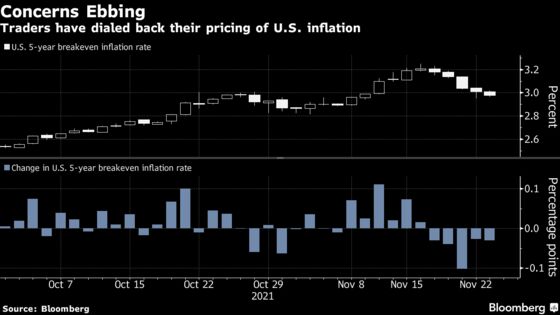 The so-called breakeven rate on five-year Treasury inflation protected securities, a proxy for the anticipated pace of consumer-price gains over the period, fell as much as 4 basis points to 2.97% Tuesday. Expectations of a more hawkish central bank and a recent pullback in oil prices have helped lower the five-year breakeven inflation rate from a mid-November peak of around 3.25%, although markets continue to price inflation that's much hotter than the Fed's target range.
The move was already in progress when the New York Fed postponed its scheduled purchase of TIPS maturing in 7.5 to 30 years to Wednesday, citing technical difficulties. Long-maturity TIPS subsequently lost additional value, sending 10- and 30-year breakeven inflation rates to session lows.
In response to the apparent hawkish shift by officials, rate markets are now close to pricing in three quarter points of tightening for 2022, and that move this week has helped drive yields on two-, and five-year Treasuries to levels not seen since early 2020. In the meantime, investors will be keenly focused on upcoming consumer-price inflation and non-farm payrolls data to see if they does indeed pave the way for the Federal Open Market Committee to shift policy at its meeting next month. 
"At a minimum, the prospects for an accelerated tapering will be on the table in December with the probability tied to the upcoming NFP and CPI releases," wrote Ian Lyngen, strategist at BMO in a research note on Tuesday.