Traders Can Obsess Over Treasury Yields Once Again: Taking Stock
(Bloomberg) -- It's going to take a lot to spook this market, especially if the ongoing reporting on the trade truce stays relatively upbeat (or even remaining vague is fine, as long as nothing major gets walked back or potentially derailed).
But something that happened Monday away from the equities market may have the potential to eventually ripple across other asset classes.
I'm talking about the inversion in a segment of the treasury yield curve, when the spread between 3- and 5-year yields went negative for the first time since 2007 followed by the 2- to 5-year doing the same shortly after.
While this wasn't the harbinger of doom that an inverted 2- to 10-year gap might signal to some (though that's starting to look precarious at under 14 bps this morning, or the flattest it's been since 2007), it definitely got the blood flowing for the stock market bears who've been reeling from a massive six-day rally that isn't showing any concrete signs of slowing down.
This isn't the first time in recent memory that equity traders are paying close attention to the treasury market. Inflation anxiety set in the moment that the 10-year yield made its first approach this year to the ~3.00% mark, with a brief sojourn above that level in April-May followed by multiple tests ever since.
But the obsession didn't last long, as many traders turned a blind eye the second it seemed clear that the 10-year wasn't going to shoot up towards levels that bigwigs like JPMorgan CEO Jamie Dimon were throwing around (upwards of 4% and even 5% versus the ~2.95% that it's currently hovering around).
So what does this latest inversion twist mean for stocks going forward? Well, it didn't exactly smack the tape on Monday, with the S&P 500 holding on to most of its trade truce-fueled gains, though it might be playing a factor today with the futures pulling back ~10 handles (headlines like "Trump's Advisers Struggle to Explain Deal He Says He Cut With Xi" most certainly aren't helping to extend the relief rally either).
It's impossible to tell what it all means without knowing whether the 2- to 10-year spread will flatten to 10 bps or less, and even that might not yield any real soothsaying. I mean, it's not like the inversion of the 2- to 5- year has historically spelled immediate doom for stocks, as the chart below shows, though legitimate breakdowns did occur in the years after the gap went negative, for what it's worth.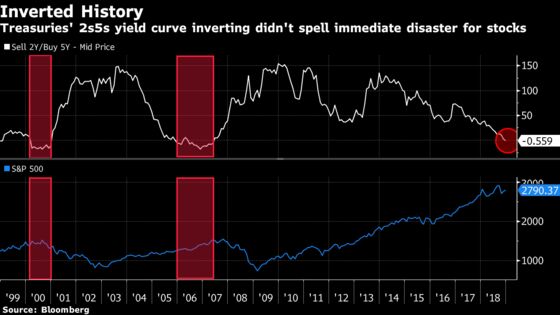 Jefferies' chief global equity strategist Sean Darby put it all in context yesterday: "The general rule is that an inverted yield curve indicates a recession in around a year's time, and that yield curve inversions have preceded each of the last seven recessions (as defined by the NBER including the most recent one). However, the yield curve is not perfect as there have been two notable 'false positives'- an inversion in late 1966 and a very flat curve in late 1998."
Darby followed it up with this, which is music to bulls' ears: "Without dismissing the inverted yield curve entirely we would prefer to use it alongside credit spreads and the Senior Loan Officer Survey. Neither suggest a recession is imminent."
The only thing that these inversions really mean for now is that the equity world is going to pay closer attention to a treasury market that may be waving the recessionary caution flag in the near term.
Especially the bears, because what else do they have to hold on to now that the double whammy of the trade agreement and Powell's recent dovish turn reared its head?
There's no question that the wall of worry from late October to early November has partially crumbled. That said, they still might have hope that trade skeptics can overrule the bullish tone that the market has taken since the weekend, or that the truce goes belly up after the agreed upon 90 day ceasefire is over.
They could also point to persistent concerns in large-cap tech land, with the action Monday in Facebook and Alphabet not exactly a boon for the FAANG bulls (both finished well off highs with the former barely eking out a gain).
Or the worries over smartphone demand, with Apple suppliers continuing to warn on prior revenue projections -- semiconductor Cirrus Logic, which relies on Apple for more than four-fifths of its revenue (according to our supply chain data), dropped 6% last night after becoming the latest to slash its forecast. Even Apple itself is getting less love these days, with HSBC becoming the fourth sell-sider to downgrade the stock in about a month (see below for the analyst's thesis that's helping knock Apple down by ~1.6% in the pre-market).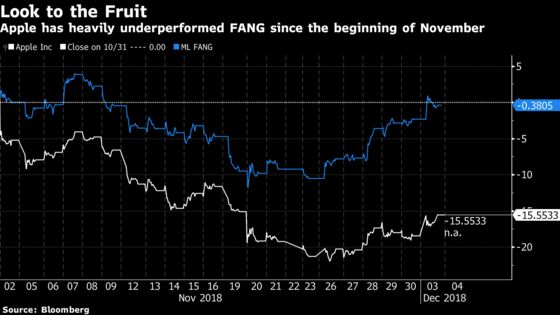 Those same bears could also point to technicals, as anywhere from 2,800 to 2,815 on the S&P 500 appears to be solid resistance (the upper range is the 100-day moving average, as can be seen in the chart below).
Yesterday's open appeared to have mounds of stock piled at the ask when the S&P 500 hit 2,800, and we never saw that level again for the rest of the day. Some are clearly hoping that the triple top at the aforementioned resistance mark will be exactly where this recent rally stalls out.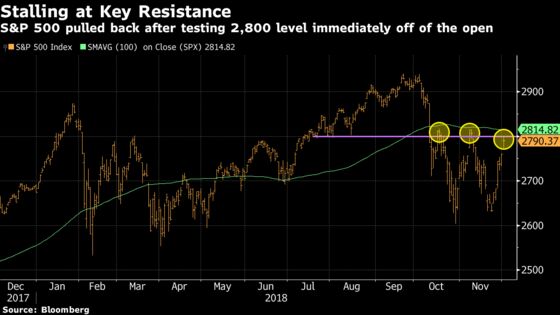 Apple suppliers after Cirrus Logic becomes the latest to cut its forecast on recent weakness in the smartphone market
Pot stocks on follow through from Monday's roller coaster of a session, which included two short recommendations in the space (Aphria is down another 11% this morning after yesterday's 23% thrashing) and swirling M&A reports; Cronos is up almost 7% after the company last night confirmed talks with Altria
Homebuilders after Toll Brothers (shares are indicated lower) said it saw the housing market "soften further" in November due to rising interest rates and the "effect on buyer sentiment of well-publicized reports of a housing slowdown"
Home furniture names with RH surging ~20% last night on a blowout 4Q forecast
Transports with harsh notes out of UBS on the truckers and Morgan Stanley on the air freight companies (see below for details)
Waste sector with Goldman raising its view on the sector to an attractive rating (citing the age of the business cycle and expectations for slowing economic growth) and double upgrading Waste Management to a buy
Bank stocks with CEOs from JPMorgan, Wells Fargo, Bank of America, and more presenting at Goldman's financial services conference today
HSBC's Erwan Rambourg downgraded Apple to a hold (following rating cuts from Guggenheim, BofAML, and Rosenblatt over the past month) on the expectation that a second derivative of growth will slow dramatically in the core iPhone business: "Nearly 35 years after Apple's 1984 hardware revolution, another one is needed: services could re-ignite growth."
Two big notes in the transports space to mention: 1) UBS is hitting the truckload stocks on cyclical concerns plus a lack of catalysts, and in turn downgrading both Knight-Swift and Hub Group to neutral in addition to cutting estimates on JB Hunt; 2) Morgan Stanley is slashing price targets on FedEx and UPS on the risk that Amazon Air poses to both companies' growth, which they say is currently being missed by the market.
Tick-by-Tick Guide to Today's Actionable Events
Today -- Cowen energy and natural resources conference; SLB, HP, SLCA, HCLP are among participants over the two days
7:30am -- AVYA, DCI earnings
7:30am -- WFC at Goldman Financial Services conference
8:00am -- T at UBS media and communications conference
8:30am -- TRI, UGI, MPC/MPLX/ANDX investor day
8:30am -- ACN CEO Pierre Nanterme on Bloomberg TV
8:45am -- CMCSA at UBS media and communications conference
9:00am -- VZ CEO Hans Vestberg at Business Insider Ignition conference
9:00am -- SONO at Raymond James tech conference
9:30am -- VZ at Wells Fargo tech summit
10:00am -- DG, AZO earnings call
10:00am -- SHAK at Barclays eat, sleep and play conference
10:00am -- BID holds "Magnificent Jewels" auction
10:30am -- TREE analyst meeting
11:00am -- WDC investor day
11:00am -- JPM at Goldman Financial Services conference
11:00am -- ETSY CEO Josh Silverman at Business Insider Ignition conference
11:30am -- DXCM investor day
11:40am -- BAC at Goldman Financial Services conference
12:00pm -- VZ at UBS media and communications conference
12:30pm -- Gotham Asset's Joel Greenblatt at Value Invest New York
12:40pm -- BX at Goldman Financial Services conference
12:45pm -- MGM at Barclays eat, sleep and play conference
1:00pm -- CBS at UBS media and communications conference
1:50pm -- TEAM at Raymond James tech conference
2:00pm -- TOL earnings call
2:00pm -- PYPL at Goldman Financial Services conference
3:00pm -- VMW at Wells Fargo tech summit
3:15pm -- LBTYA at UBS media and communications conference
3:30pm -- SIVB investor day
3:35pm -- Former GE Vice Chair Beth Comstock on Bloomberg TV
3:45pm -- CVNA at Wells Fargo tech summit
4:00pm -- ESTC earnings (timing uncertain)
4:00pm -- ATUS at UBS media and communications conference
4:00pm -- Chilton Investment's Richard Chilton Jr. at Value Invest New York
4:05pm -- MRVL, HPE, MDB, ZS, HOME, HQY earnings
4:10pm -- RH, OLLI earnings
4:10pm -- SYMC at Raymond James tech conference
4:15pm -- GWRE earnings
4:20pm -- CSCO, V at Wells Fargo tech summit
4:30pm -- API oil inventories
4:45pm -- MRVL earnings call
5:00pm -- Oaktree Capital's Howard Marks at Value Invest New York
6:05pm -- SVMK, FFIV, PFPT at Wells Fargo tech summit
6:40pm -- SMCI at Wells Fargo tech summit
7:00pm -- EW investor meeting (day one of two)
8:45pm -- China Caixin PMIs
Tonight -- IPOs scheduled to price: Mogu (MOGU)