Traders Face Wild 2021 in Chile With New President, Charter
(Bloomberg) -- Investors in Chile are steeling themselves for a tumultuous year ahead with two elections and the drafting of a new constitution, processes that will test the country's reputation as Latin America's most stable and business-friendly nation.
In April, citizens must choose members of a Constituent Assembly to draw up the new charter, before returning in November for presidential and congressional elections. And with rejection of traditional parties running high following months of violent social unrest, investors have little idea what will happen in either vote.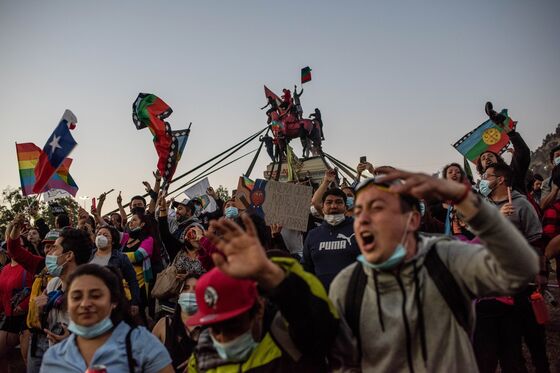 Many investors credit the current constitution for underpinning more than three decades of rapid growth, fiscal discipline and surging corporate profits that gave Chile the highest sovereign credit rating in Latin America. For the left, the Constituent Assembly is an opportunity to overthrow the legacy of unfettered capitalism of Augusto Pinochet's dictatorship and the deep inequalities it enshrines. In the meantime, investors are holding their breath.
"It looks like Chile is going to weaken its fabled and much-copied fiscal rules," said Michael Roche, a strategist at Seaport Global Holdings in New York who recommends selling Chilean government debt in favor of Uruguayan sovereign bonds. "What they're embarking on looks likely to disturb this model to the point where it could be nullified."
Chileans voted by a majority of almost 80% to rewrite the constitution in a referendum in October, showing the depth of feeling in a country wracked by social unrest now for more than a year. That explosion of discontent had paralyzed much of the nation, sending the peso lower and prompting rare intervention from the central bank.
The riots and protests, followed by the pandemic, have broken the close correlation between copper, Chile's leading export, and the peso. While the red metal has surged roughly 28% year-to-date, the currency has gained only 3.6%.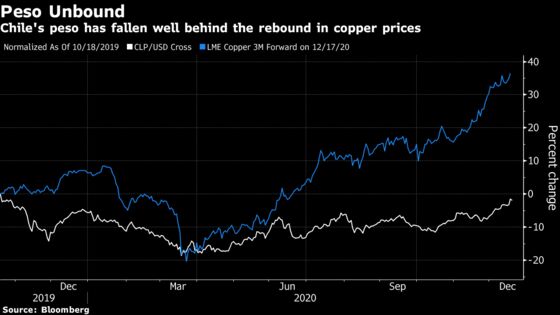 Neither is it just the peso that has investors worried. Santander cut Chilean stocks to neutral from overweight on Wednesday, citing the risks stemming from constitutional reform and a lack of catalysts. The benchmark IPSA index is down 10% this year.
Any indication the Constituent Assembly is failing to deliver on demands for significant change could trigger a return of social unrest. Indeed, the undertakings are fraught with potential pitfalls.
The 155-member assembly bars all current lawmakers from standing, opening the door to candidates with little political experience or even legal knowledge. They must address a long list of grievances including privatized basic services ranging from pensions to health-care.
Before being put to a national referendum in 2022, each article of the new constitution must receive two-thirds approval from the assembly. The high threshold raises the likelihood important issues are left out, according to Goldman Sachs.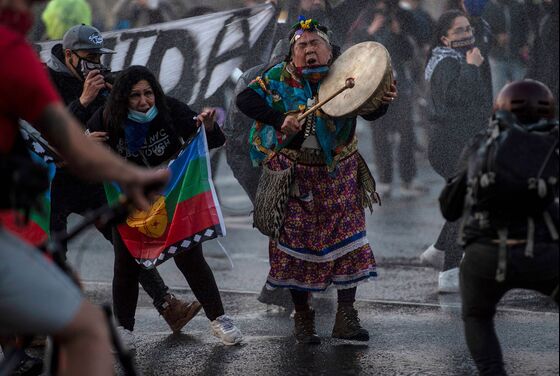 Put together, uncertainty over the new constitution will shave 0.8% from Chile's growth next year, according to Felipe Camargo, an economist at Oxford Economics. Businesses will delay investments and hiring decisions, he wrote in a research note.
For Fitch Ratings, the impact will last even longer. "The political uncertainties are likely to weigh on private-sector investment and growth through 2023 and complicate the fiscal adjustment process," Fitch Director Richard Francis wrote in a research note this month.
Chile is far from the only country in Latin America contending with political uncertainty. Neighboring Peru had three presidents in less than a week's time in November, and citizens there will elect a new head of state in April.
Many investors point out that Chile can withstand the uncertainty with help from its solid economic base. While public debt is expected to increase to 36.4% of gross domestic product next year amid emergency spending measures, it's still low compared to peer countries.
Chile's 5-year credit default swaps, a measure of risk premium, are at the lowest level since February. The very act of debating and proposing solutions to the nation's problems can serve as an outlet for social unrest, according to said Edwin Gutierrez, a portfolio manager at Aberdeen Asset Management in London.
"Chile has pretty bad inequality, but they are doing something about it," Gutierrez said. "They had the fiscal flexibility to do so since it has been a fairly low-indebted country by Latin American standards. They're not out of the woods yet, but they're making an attempt to address the protesters demands."
Read more: Rally May Reassert Copper's Power Over Beleaguered Chilean Peso
It's still too early to know what concrete changes will come in the new charter, according to William Snead, a fixed income strategist at Banco Bilbao Vizcaya Argentaria SA in New York.
"We'll have to see who gets elected to the new entity re-writing the constitution," said Snead. Then, we'll need to "see what changes are made -- moderate versus radical changes -- and then finally approved."