Trump Goes Orthodox With His Trade Re-Election Pitch
President Donald Trump's place in the history books is likely to be that of the iconoclastic disruptor. He was elected in 2016 promising an economic agenda meant to give mainstream practitioners and policy makers tariff-derived palpitations. And by and large — on trade, certainly — he has delivered on the palpitations.
The disruptions are certainly continuing. But one remarkable development this year is that as he runs for re-election, Trump and his team are offering an oddly orthodox economic sales pitch.
On trade the president's message to voters has shifted from one based on ripping up deals to one touting the self-declared benefits of his own recently concluded agreements.
What is ironic is that it's a recipe that echoes the promises his predecessors made on behalf of trade pacts: that they offer a revolutionary path of growth, jobs and mutual benefit.
It turns out even protectionist presidents at some point can end up having to sell their own trade deals.
The best example of that is the loud-hailing now underway over Trump's rebranded Nafta, the USMCA.
The numbers offered by the Trump administration are relentlessly optimistic:
In his State of the Union address earlier this month Trump said the USMCA would create almost 100,000 jobs for auto workers.
In a speech to the National Association of Manufacturers on Friday, Vice President Mike Pence cited administration estimates that the new Nafta "is going to create another 600,000 new jobs, including, we think, at least 50,000 manufacturing jobs right out of the gate."
In an interview with CNBC last week, Ivanka Trump, the president's daughter, said the administration expected USMCA to have a "tremendous impact" on gross domestic product. "We're expecting at least a half a point annually," she offered.
Politics, of course, is an art more about spin than facts.
We are living through a natural economic experiment on trade unlike any seen in decades and one that's only just begun. Hard data are likely to take some time.
The administration in the meantime has been touting its own calculations rather than independent ones.
The non-partisan analysts at the International Trade Commission last April offered a more muted assessment of the impact of Trump's new Nafta. They see it adding 0.35% to GDP in its sixth year. And that it will actually contribute to a decline in auto production jobs while helping to create a relatively modest 176,000 jobs overall in that sixth year.
Importantly, the biggest economic benefit the analysts at the ITC found was the end of the uncertainty hanging over the North American trading bloc as a result of Trump's persistent threats to end Nafta. Without factoring that end of uncertainty in the impact of the USMCA would actually be a 0.12% reduction in U.S. GDP.
That is, of course, not a prediction worth pitching to voters.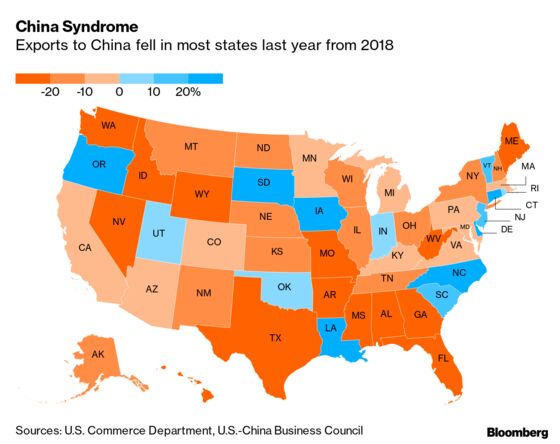 Exporters from most U.S. states experienced dismal sales to China last year as tariffs slammed products ranging from wheat and whiskey to ginseng and gas. Total U.S. merchandise exports to China fell 11% last year to about $107 billion, according to the latest data from the U.S. Commerce Department. Particularly hard hit were Texas, Florida and Alabama — which each saw sales plunge by more than 25%.
China insight | A $14 trillion question pervades the global economic outlook: Is China back at work?
Europe's week | U.K. and Germany to dominate economic headlines as coronavirus data start to emerge. 
Feb. 19: Japan trade balance
Feb. 21: South Korea 20-day exports and imports
Feb. 25: CPB World Trade Monitor 
Britain's departure from the EU on Jan. 31 marked the start of a new and, if anything, more complex phase of the negotiations. Click here for a timeline to the year ahead.