What's Next for Trump's Phase-One Trade Deal With China
After testing the patience of financial markets, the U.S. says it has hashed out with China the terms of that long-awaited "phase one" deal, with President Donald Trump said to have signed off on it and expected to lead an unveiling as soon as Friday.
As advertised, the agreement hinges on China stepping up its purchases of American agricultural products to as much as $50 billion annually and committing to crack down on intellectual property theft, not manipulate its currency and open up the financial services sector to more foreign companies. In return, the U.S. won't go ahead with Dec. 15 tariffs and appears to be ready to reduce the existing tariffs on some $360 billion in imports from China that have been steadily been introduced since last year.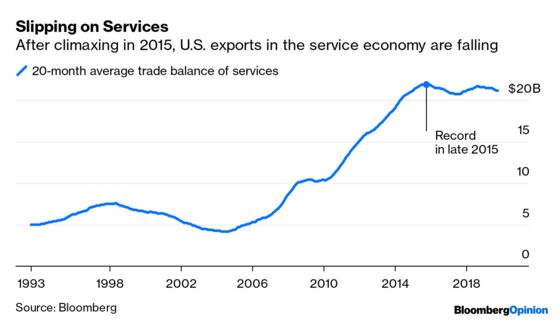 America's post-World War II transition from industrial superpower to the biggest net exporter of services — such as intellectual property, travel and transport, computers, finance, insurance, health care, higher education and businesses associated with academia — climaxed with a record monthly trade balance of $21.9 billion at the end of 2015. But this vital measure of the advanced U.S. economy has fallen almost 3%, to $21.1 billion, since then. Read the Matthew Winkler's full Bloomberg Opinion column here.
By the numbers | Here's what avoiding the December tariffs means for the global economy in 2020.
Seven wonders | The yuan breaks 7.0 again as Trump signs off on stage one of the trade deal with Beijing.
Dec. 17: Japan, European Union trade balance