Trade war is just one hurdle for Trump and Xi
As top U.S. trade negotiators arrive in Beijing, the White House is signaling President Donald Trump wants to meet Chinese counterpart Xi Jinping "very soon."
That may not be before the March 1 deadline to avert higher tariffs on imports from China, though it suggests momentum for a deal to end the trade war between the world's two biggest economies. Yet both sides are only starting the work of drafting a common document and still tussling over how an agreement may be enforced.
Even if their truce holds, the broader relationship faces multiple tension points. The Pentagon warned China is developing sophisticated space capabilities such as "satellite inspection and repair" that could be used as weapons against American satellites. China disputed the claim.
On another front, Secretary of State Michael Pompeo came close to issuing an ultimatum to nations buying from Huawei Technology, saying that contracts with the Chinese networking giant could limit the availability of U.S. equipment.
Some U.S. officials see the most likely scenario at this week's trade talks is for Trump to defer his deadline for raising tariffs. Given the other complications, it might be some time before Trump and Xi attend any signing ceremony.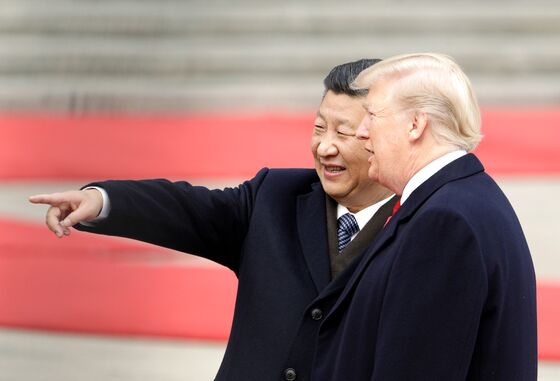 Tentative deal | Democrats and Republicans in Congress may have averted the risk of another government shutdown in less than four days. But there's a hitch: Success hinges on Trump accepting less money than he demanded for Mexican border security. The president gave no indication whether he'd accept the tentative deal – which would provide $1.375 billion for fencing, far short of the $5.7 billion he wanted for a wall – at a rally last night in El Paso.
Extra time | U.K. Prime Minister Theresa May addresses parliament today to urge lawmakers to collectively "hold our nerve" and give her more time to renegotiate her Brexit deal with the European Union (which still says it won't reopen the agreement). She may promise lawmakers another vote on what should happen next if she hasn't brought back a revised deal by Feb. 27. Rob Hutton revisits the parliamentary arithmetic facing May.
Cyber warning | EU states are considering a possible joint response to cyber attacks allegedly conducted by a Chinese state-linked outfit. The U.K. presented evidence last month about network infiltration by the APT 10 group, Natalia Drozdiak, Nikos Chrysoloras and Kitty Donaldson report. Responses could include sanctions or a joint warning, and the issue may be raised at an EU-China summit scheduled for April.
Textbook diplomacy | Trump likes to boast about his disruptive foreign policy style – calling North Korea's leader "Little Rocket Man" or announcing plans to pull troops from Syria without notifying his top generals. But with Venezuela, Trump is playing it uncharacteristically straight. Instead of going it alone, he's leaned on a patient mix of sanctions, behind-the-scenes diplomacy and public pressure on Nicolas Maduro.
Power problems | Daily electricity outages wracking South Africa pose a key test for President Cyril Ramaphosa's ability to end rampant mismanagement at debt-ridden state power utility Eskom and take tough measures – job cuts, asset sales and higher prices – to fix its finances. The rand weakened yesterday after Moody's Investors Service said his plan to split the company into three won't solve its problems.
Trump and New York Governor Andrew Cuomo plan to meet today to discuss a change that Democrats from states like New York, New Jersey and California have been pushing to a 2017 tax law.
Tokyo is demanding an apology after South Korea's National Assembly speaker described Emperor Akihito as "the son of the main culprit of war crimes" during Japan's 1910-45 occupation.
And finally… Prague wants to tone down its reputation as one of Europe's wildest party cities amid anger from local residents. The Czech capital appointed Jan Stern as its first "night mayor" to turn a nightlife based on pub crawls and strip-clubs into one aimed at tourists more interested in Gothic spires, Franz Kafka and modern art. "People are desperate," said one city official. "The whole place looks like a circus."