Trade War Fears Return Just as FAANGover Subsides: Taking Stock
(Bloomberg) -- Stock futures are slightly in the red and still feeling the effect of newfound trade war fears, with the latest threat from the Trump administration coming just hours after both sides were said to restart negotiations to defuse the spat.
Another negative economic datapoint overseas (U.K. PMI falling to 3-month low and missing Street estimates) isn't helping, and we have a Fed Day to deal with on top of that.
Apple is holding on to its ~4% gains, but it's early as tech bulls are still reeling from the recent FAANGover blues, while music streamer Pandora Media is also elevated with a ~15% rip. But two other tech gainers on earnings have since reversed, with Baidu ADRs falling almost 9% peak-to-trough (a report that said Google is planning a censored search app for China could be doing the damage here) while high-flying IPO iQIYI AKA "The Chinese Netflix" (majority held by Baidu) is now in negative territory after climbing as much as 6.5% last night.
Watch for weakness in the trade proxy stocks like Caterpillar and Boeing, which were bid up yesterday on trade talk optimism, and possibly even the semiconductor names (this group has been beyond resilient considering the recent washout in the tech space). Apple's suppliers like Qorvo, Skyworks and Broadcom are seeing read-across upticks for the moment, and we may also see similar reactions in the payroll software stocks after a big beat from Paycom, which surged almost 9% overnight.
You could look at the latest wrinkle in the trade war with China as a negative, since Trump is escalating the situation by lifting the 10% tariff on $200 billion of Chinese goods to 25%, or as more of a wash, as Trump previously threatened that he was "ready to go" with tariffs on upwards of $500 billion of goods just over a week ago and that clearly isn't on the case with this latest ploy.
What remains a constant is that trade headlines involving China remain a major catalyst for this market (much more so than those tied to the EU or Nafta), if not the biggest of them all. Our scoop Tuesday morning that the two sides were seeking to restart talks to "defuse" a full-blown trade war immediately sent the futures up ~11 handles (and gave a giant bid to industrials space and the aforementioned trade proxies), a WSJ story in the afternoon about the scant progress of the negotiations brought the cash index down ~5 points, while last night's news about the tariff percentage hike saw a 12-point fade in the futures.
The latest trade twist killed all of the post-Apple momentum that tech was experiencing in the aftermarket -- the QQQs gave up all of their 0.7% gains once the news hit the wire -- but the slog of FAANG earnings is finally over, and Apple avoided any sort of Facebook-like blowup. On the contrary, it's poised to exhibit the strongest one-day earnings reaction out of any other member of the complex. Of course, that's assuming the gains can hold, which is definitely not a given in this market; case in point Amazon, which completely erased its 4% gap-up on Friday in a little more than one session as tech stocks continued to roll over.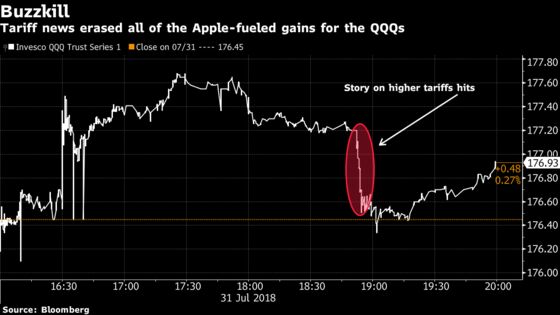 GBH Insight's Daniel Ives sums up the feeling of relief for the tech bulls nicely: "In a nutshell, after the heartburn seen from the earnings disappointments across tech bellwethers such as Facebook and Netflix over the last few weeks, Apple gave the Street and tech investors finally some good news with a clean June headline beat and stronger than expected outlook for the September quarter which is a positive data point for the iPhone product cycle demand heading into FY19."
Here's some of the more interesting takes on Apple (see Street Wrap for more):
The highest price target on the stock remains $235 for the moment, with BTIG joining the Street-high group as there are early signs that upgrade rates might be bottoming, "which could provide an additional tailwind to our estimates that are now above consensus"
Everyone remains infatuated with the potential eclipse of $1 trillion market cap, with Morgan Stanley, RBC and Loup Ventures' Gene Munster seeing a clear path for Apple to shatter that milestone and beyond
Questions remain over where we are in the cycle, with Piper seeing potential for a "'super-long' cycle involving an ongoing multi-year move to the "X-gen" form factor" while Keybanc says deceleration in fiscal year 2019 "still appears likely"
CLSA calls it a "brilliant" quarter with strong guidance, but the news is less positive for the supply chain given that iPhone units were overall flat: "We believe Apple is not seeking volume growth but a better mix, ASP"
Melius Research's Rob Wertheimer, who came from Barclays, is upgrading the machinery sector to a positive in a counter to the argument that we're at the end of the cycle; he upgrades PCAR to a neutral and makes positive comments on CAT and URI.
Jefferies upgrades Papa John's to a buy after analyzing refranchising and M&A scenarios; sees 3-5 year path to recovery with potential for EPS >$4.00 by 2022 even without a buyout.
BofAML double downgrades VNTR to underperform as the company's titanium dioxide (TiO2) business is closer to peak than trough with prices in certain regions, like Europe, already starting to decline.
Tick-by-Tick Guide to Today's Actionable Events
Today -- Auto sales day
Today -- IPO lockup expiry: FTSI
7:00am -- GRMN, CRTO, SSYS, TAP, ADP, AN, CHK earnings
7:15am -- AMC earnings (roughly)
7:30am -- S, SODA earnings
8:00am -- VG earnings
8:15am -- ADP Employment
8:30am -- S, AMC earnings calls
9:45am -- Markit PMI
10:00am -- ISM Manufacturing, Construction Spending
10:30am -- DoE oil inventories
2:00pm -- FOMC rate decision
2:00pm -- SGMO business update call
4:01pm -- FEYE, CRUS, WYNN, ESRX, DVA, DXCM earnings
4:03pm -- ARRS earnings
4:05pm -- TMUS (roughly), FIT, TRIP (roughly), ZNGA, TEX (roughly) earnings
4:10pm -- TSLA (roughly), SQ (roughly), HUBS, HLF earnings
4:15pm -- FTNT, APTI, MET, VOYA, XPO, WMB earnings
4:18pm -- PRU earnings
4:30pm -- TMUS, YUMC, WYNN, FMC, CF, MRO earnings
4:45pm -- APA (roughly) earnings
5:00pm -- SQ, FIT, FEYE earnings calls
5:30pm -- TSLA earnings call
6:00pm -- X (roughly) earnings
8:00pm -- YUMC earnings call
Tonight -- IPOs scheduled to price: Cushman & Wakefield (CWK), Sonos (SONO)