TP ICAP Slams Working From Home, Says It Hampers Risk-Taking
(Bloomberg) -- Real risk-taking happens in the office. That's the view of the world's largest interdealer broker, TP ICAP Group Plc. 
The firm warned in its interim results that markets are "uncommonly quiet," with depressed yields providing fewer opportunities to trade. 
"We need more volatility, and we also need our clients, quite frankly, to work more from the office and take more risk positions on," Chief Executive Officer Nicolas Breteau said in an interview. 
TP ICAP has told its brokers to come back to the office full-time in places where it's safe to do so, such as London, where the firm is headquartered.
"The interaction with clients is facilitated when people are in the offices, because there's kind of good synergies around desks -- trading desks with the clients and broking desks with us," said Breteau.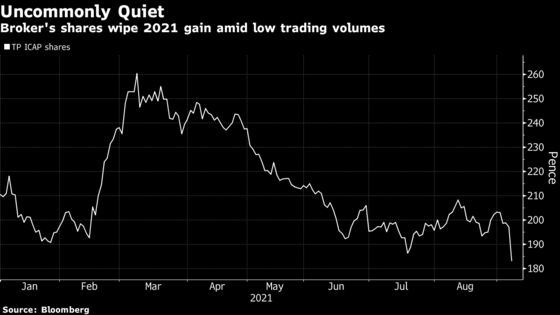 "The traders that generally would be taking more risk have not been really able to take as much risk," said Joanna Nader, TP ICAP's global head of strategy. "They're working from home, it's not as easy to supervise them -- and so banks have generally taken the view that they want them to have lower risk limits."
"Hopefully, when people start returning to the office we start to have a more normal type of environment," she said. "When asset managers come back to the office and start taking more views on the markets and on their funds, then that translates into more dealer activity."
TP ICAP's shares fell as much as 11%, their biggest one-day decline since September 2020.