Toyota Looks Increasingly to China as American Earnings Decline
(Bloomberg) -- For Toyota Motor Corp., the U.S. market has been a profit paradise in recent years, powered by its legendary Camry sedan franchise. The Japanese automaker still makes a lot of money in America, but its profit margins are shrinking, prompting Toyota to double down on a far riskier market: China.
Third-quarter earnings from the car giant's North America business slumped 45 percent as consumer preferences, thanks to relatively tame oil prices, shift away from sedans such as the Camry toward pickup trucks and sport utility vehicles. Still, Toyota's overall operating profit, a key financial metric watched by analysts, rose as the company earned more money in Asia and from vehicles exported from Japan.
Toyota has concentrated on the U.S., which accounts for about a third of global sales, even after China overtook it to become the world's largest car market in 2009. Now though, the manufacturing giant has added incentive to shift focus as its U.S. sales keep waning while in China, its models such as the Lexus luxury vehicles are weathering a market slump.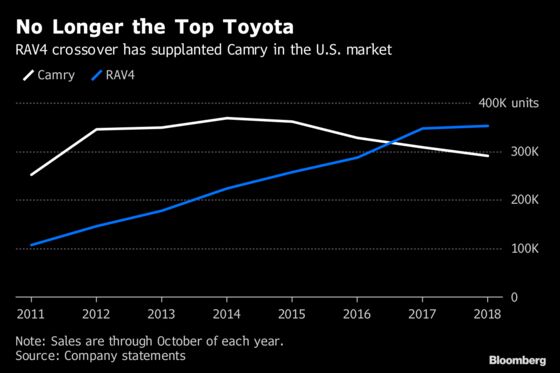 Camry -- the best-selling car in the U.S. for 16 years running -- has been hit by the collapse of demand for traditional sedans, which accounted for half the market just six years ago. The vehicle type only accounted for 30 percent of U.S. sales in 2018, amid a mass exodus out of classic family cars and into SUVs such as Toyota's RAV4.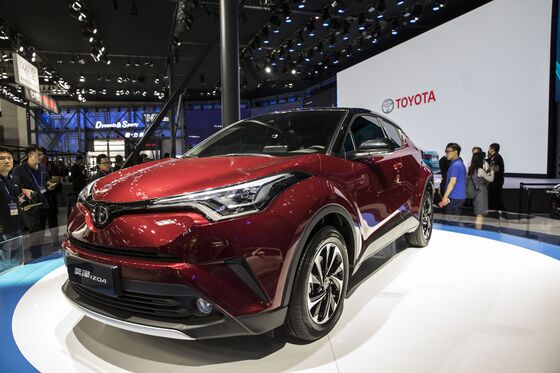 But in China, it's a different picture. New models such as the Izoa crossover helped Toyota register gains in China last year -- one of just a few global carmakers to do so. The company is also rolling out an all-new version of the world's top-selling vehicle, the Corolla, to keep up the pressure on larger rival Volkswagen AG in China and other markets.
The Japanese maker said it expect sales to increase 8 percent to 1.6 million units in China in 2019, with the country overtaking Japan for the first time to become the carmaker's biggest market after the U.S. This also has boosted confidence for Toyota to set its eye on tripling car production in China by as soon as 2030.
While rivals such as Daimler AG, BMW AG and Ford Motor Co. have been hit by the trade tensions and the resulting import tariffs that made U.S.-built vehicles more expensive in China, Toyota has actually benefited from the spat. Its vehicles imported from Japan, in particular the Lexus brand, have gained buyers as they've become relatively cheaper.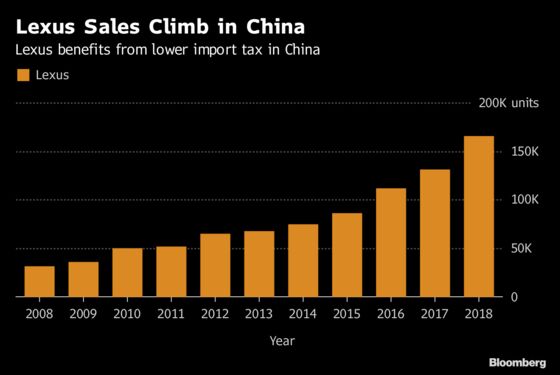 For sure, it's not guaranteed Toyota's China momentum will continue. Sales growth at its Lexus unit is likely to slow once China slashes its tariff on U.S.-built vehicles to 15 percent from 40 percent, according to Bloomberg Intelligence analysts Steve Man and Kevin Kim. The lower import duty, combined with price cuts, should boost shipments of U.S.-built Mercedes and BMW SUVs at the expense of Lexus, they said.
And Goldman Sachs Group Inc. expects the car market in general to be tougher in China and U.S. this year, with overall demand in China remaining little changed and falling 3.5 percent in the U.S. Japan will see no growth either, according to a report the bank released in December.
In the U.S., Toyota said it is making progress in reining in incentive spending, as it shifts toward making more sport-utility vehicles to cater to consumers' changing appetites. Executive Vice President Shigeki Tomoyama said Toyota has thus far been slow to adapt to market shifts in America, and also still has room to improve its profitability in the market.
"It's true that there are regions where our models didn't meet changing demand," Tomoyama said. "We are only half-way through diversifying our profitable markets and our profitable models, but I think we are making steady progress."