Toshiba Drops After Disclosing CVC Buyout Offer Has Stalled
(Bloomberg) -- Toshiba Corp. shares tumbled after the Japanese company said a potential buyout offer from CVC Capital Partners has stalled.
Toshiba revealed a preliminary approach from CVC in early April, which sent its stock soaring. Just days later, the company's board urged caution over the discussions, warning the proposal may not lead to a transaction.
In the latest chapter of the convoluted drama, Toshiba revealed it had received a letter from CVC on Monday, but it included "no specific and detailed information capable of detailed evaluation." Toshiba shares fell 3.3% on Wednesday.
"It merely stated that CVC would step aside to await our guidance as to whether a privatization of Toshiba would suit management's and the Board of Directors' strategic objectives," the statement said.
"As this preliminary proposal lacks the required information the Board has concluded it is not possible to evaluate it," it said.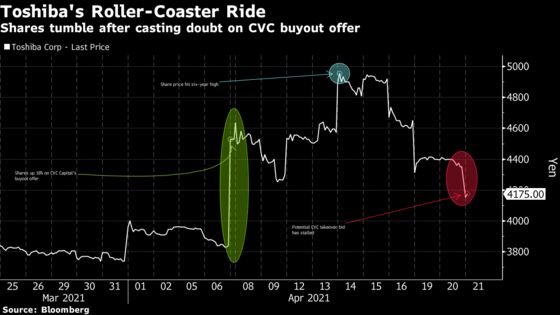 The disclosure is yet another setback for any potential buyout of the Japanese company, which also saw the resignation of its chief executive officer earlier this month. Nobuaki Kurumatani, who had previously worked at CVC, stepped down after he suffered a sharp drop in support from Toshiba employees and executives.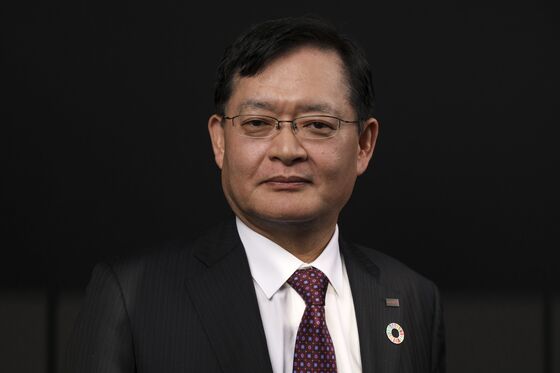 It's not clear whether other reported bidders will proceed after CVC. After the firm's initial approach, private equity firm KKR & Co. and Canadian investment giant Brookfield Asset Management Inc. began exploring potential offers, Bloomberg News reported.
Bain Capital has entered into discussions with Japanese banks, including units of Mizuho Financial Group Inc. and Sumitomo Mitsui Financial Group Inc., to secure funding for a potential bid, Reuters reported Wednesday.
Satoshi Tsunakawa, who took over as CEO this month, offered reassurances that Toshiba would remain a strong Japanese company and invest in research and development. His comments appeared aimed at reassuring employees and business partners in the wake of the CVC offer.