Toronto Home Prices on Pace to Top C$1 Million After Record Year
(Bloomberg) -- Toronto home prices are on track to top C$1 million on average this year as a pandemic-induced frenzy for buying bigger homes shows no signs of slowing down.
The average home price in the Greater Toronto Area reached a record C$929,692 in 2020, with buyers taking advantage of low mortgage rates to buy bigger homes during the pandemic, according to a report released Monday by the Toronto Regional Real Estate Board.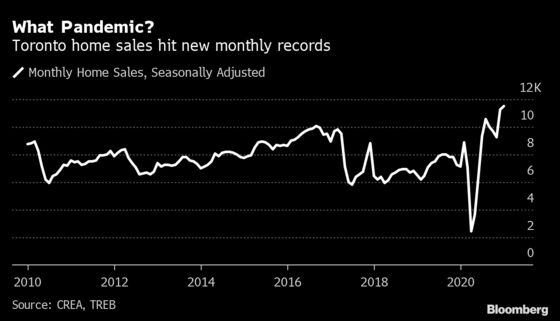 Those trends continued into this year, with sales up 50% in January compared with the same period last year, the data show.
"If the January numbers are any indication we're certainly moving towards another strong year for housing," Jason Mercer, the Toronto real estate board's chief analyst, said in an online presentation. "There is no reason to believe the foot is going to be taken off the gas pedal in the year ahead."
With the real-estate surge in Toronto, Canada's financial capital is now on pace to join Vancouver as the country's second city with an average home price above C$1 million ($783,500). The rising prices starting in 2018 and accelerating in 2020 have turned housing affordability into a national political issue.
Last year, Toronto said it was exploring whether to implement a tax on empty homes like the one already in place in Vancouver, which is meant to make second homes and investment properties available to renters. Also, the government of Prime Minister Justin Trudeau has proposed a new tax on foreign, nonresident home owners as a tool to make housing more affordable for first-time buyers.
The federal government has also been working to increase housing supply, particularly to renters, in the form of cheap loans for the construction of new apartment buildings. In its report, the Toronto real estate association recommended new zoning rules in the city to allow single-family homes to be converted to multiple units, saying such a change could rapidly bring as many as 400,000 new units to market.