Toronto-Dominion Profit Tops Estimates on Canadian Recovery
(Bloomberg) -- Toronto-Dominion Bank's Canadian operation is getting a boost from a rebound in consumer spending and the continued strength of the country's housing market.  
Profit in the Canadian retail business rose 19% to C$2.14 billion ($1.7 billion) in the fiscal fourth quarter, the Toronto-based bank said Thursday in a statement. Overall profit topped analysts' estimates.  
Toronto-Dominion has seen its balances of mortgages and home-equity lines of credit swell throughout the pandemic as Canadian home prices soared and sales volumes remained strong. The unit has posted two straight quarter-over-quarter gains in credit-card balances as the country's consumers start to ramp up spending.
"The recovery is under way, and we're especially pleased with that because we are a strong consumer, retail bank," Chief Financial Officer Kelvin Tran said in an interview. "We're purpose-built for this recovery."
The bank -- freed last month from industrywide restrictions on boosting its dividend and buying back stock -- also raised its quarterly dividend 13% to 89 cents a share and said it would repurchase 50 million shares, or 2.7% of shares outstanding, which would cost roughly C$4.6 billion at the current price. 
Toronto-Dominion rose 3.1% to C$94.82 at 9:45 a.m. in Toronto. The shares have risen 32% this year, compared with a 27% gain for the S&P/TSX Commercial Banks Index.
Net income declined 26% to C$3.78 billion, or C$2.04 a share, in the quarter ended Oct. 31. Excluding some items, profit was C$2.09 a share. Analysts estimated C$1.96, on average.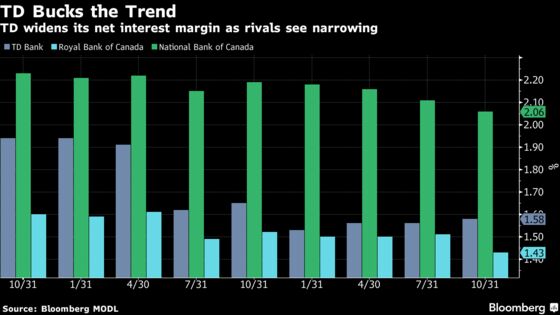 The lender's net interest margin -- the difference between what it earns from loans and what it spends on deposits -- widened to 1.58% in the fourth quarter from 1.56% in the third. That's a contrast to rivals including Royal Bank of Canada and National Bank of Canada, which reported narrowing spreads for last quarter. For Toronto-Dominion, the margin was helped by higher wholesale lending revenue and better investment revenue in the U.S. bank, Tran said.
Toronto-Dominion released C$123 million in provisions for credit losses. Analysts estimated the bank would set aside C$161 million.
The company's U.S. retail operations haven't gained the same momentum as the Canadian division. While the full personal loans category increased from the third quarter, business loans fell 5.9%. In Canada, business loans have gained sequentially for four straight quarters. Total profit for the U.S. unit rose 66% to $1.09 billion in the fourth quarter, helped by a recovery of credit provisions.
"In the U.S. there's more excess liquidity due to various government programs," Tran said. "So our customers don't have a need at this point in time to get more loans from banks."