Top Wall Street Banks Will Be Flooding Debt Markets Before Fed Rate Hikes
(Bloomberg) -- Expect Wall Street's biggest banks to flood the corporate bond market once they start reporting quarterly results on Friday, joining an army of issuers raising money before the Federal Reserve knocks borrowing costs higher.
Even when the Fed isn't poised to hike rates, big banks usually try to raise a lot of money in debt markets in January. But with central bank policy makers primed to jack up rates, there's an especially good reason to raise money.
Financial firms like BNP Paribas SA and Royal Bank of Canada that are based outside the U.S. -- they're called Yankee banks -- have already started to. Financials accounted for 67% of U.S. high-grade bond sales in 2022 as of Wednesday, according to data compiled by Bloomberg.
"Given the concern of higher rates, it stands to reason we'll see issuance front-loaded post-fourth-quarter earnings," said Matt Brill, head of North America investment grade and senior portfolio manager at Invesco Ltd.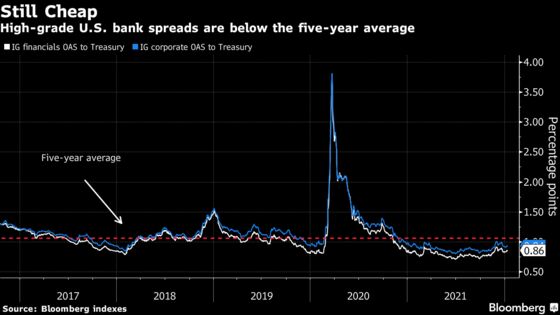 The Monday selloff in U.S. Treasuries pushed the average U.S. corporate bond yield to 2.58%, the highest since May 2020, when spreads were elevated amid Covid-related shutdowns. That's still below the five-year average, and spreads remain low by historical standards, particularly for banks, which have outperformed other high-grade corporate bonds this year.
JPMorgan Chase & Co. credit research analysts Kabir Caprihan and Nikita Dyatlov expect big banks to borrow a combined $24 billion to $32 billion following their earnings reports.
"That said, we do think the bias is on the upside and will not be surprised if we see closer to $35-$38 billion," the analysts wrote in a note Tuesday.
Five of the six biggest U.S. banks raised money in January 2021, pocketing a total of $24 billion, according to data compiled by Bloomberg. That was nearly double the $12.35 billion of bonds they sold in the same month in 2020.
Morgan Stanley had the largest January 2021 deal, borrowing $7.5 billion, followed by Goldman Sachs Group Inc.'s $5.5 billion deal, JPMorgan at $5 billion, Wells Fargo & Co. at $3.5 billion and Citigroup Inc. at $2.5 billion.
Full-year issuance is, however, expected to shrink because banks should be largely done funding the massive asset growth they've seen since the onset of the pandemic. Barclays Plc expects supply from the sector to drop by about 30% this year from 2021. CreditSights' Jesse Rosenthal and Peter Simon see an even bigger plunge: 35% to 45%.
"The U.S. banks head into 2022 in solid fundamental shape and well-positioned to capitalize on a normalizing operating environment," the CreditSights analysts wrote. "With considerable excess liquidity still on balance sheets, there's revenue upside from both a potential rebound in loan demand and margins coming off of pandemic era lows."