Top U.K. Soccer Clubs Cut Player Spending for First Time Since 2012
(Bloomberg) -- Spending on players by English Premier League soccer teams slumped in January for the first time since 2012 as the top clubs cemented their dominance of the competition and income from broadcasting leveled off.
The 20 clubs spent 180 million pounds ($235 million) acquiring new players during an annual transfer window, down from 430 million pounds in January 2018, according to data from Deloitte LLP's sports business group.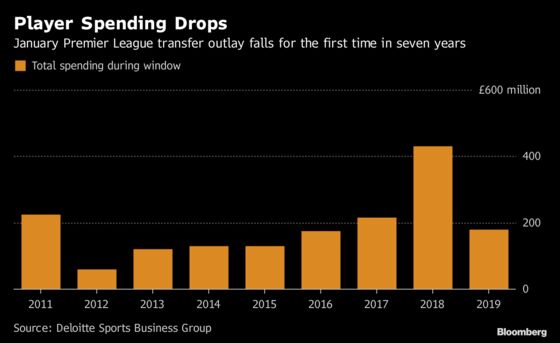 Deloitte attributed the drop to reduced activity by the top six clubs -- which find themselves relatively secure in their leading positions -- a perceived lack of value in the transfer market and the value of Premier League broadcast rights leveling out in the most recent auction.
Pound currency weakness caused by Brexit is also dampening demand, according to Robert Wilson, a lecturer in sports business management at Sheffield Hallam University.
"The uncertainty with Brexit and the obvious impact that it has had on sterling exchange rates, with euro in particular, is making deals with European clubs much more expensive," Wilson said by email.
The Premier League is Europe's richest football competition -- six of its clubs made it into the top ten of a recent European Money league based on revenue. While English teams are still scouting European talent, "those players now command a premium, and euro clubs hold firm," said Wilson, noting that Brexit also has the potential to cause visa problems for U.K. soccer clubs in years to come.  
Spending on Thursday, when the transfer window closed, was 50 million pounds versus last year's one-day spend of 150 million pounds, consultancy and accounting firm Deloitte said. The biggest deal came at the start of the transfer window when Chelsea signed American Christian Pulisic from Borussia Dortmund for 64 million euros ($73.4 million).
One club that did spend on deadline day is Newcastle United, owned by the billionaire founder of Sports Direct International Plc, Mike Ashley, which paid a club record 20 million pounds to U.S. Major League Soccer team Atlanta United for Paraguay midfielder Miguel Almiron, according to the BBC.
Over the 2018/19 season as a whole, which includes summer 2018 spending, Premier League clubs spent 1.4 billion pounds, Deloitte said, making it the first season since 2011/12 that there has been a decrease in gross transfer expenditure, before adjusting for player sales.
The English elite clubs collectively were still the highest spenders in Europe in January, with their 180-million-pound outlay topping Italy's Serie A spending of 140 million pounds. France's Ligue 1, Spain's La Liga and Germany's Bundesliga all spent around 65 million pounds, Deloitte added.